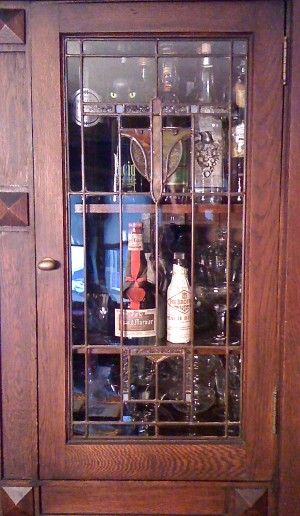 For those who are curious about some of the recipes, here is what I currently have in the liquor cabinet. Technically, it doesn't all fit into a single cabinet, and some of it is stored in the refrigerator, but you get the idea. Still, there's always room for more!
Many cabinet items listed are linked to their corresponding tags on Summit Sips. You may have noticed tags listed at the bottom of each post. Clicking tags or their corresponding cabinet items here will bring up a page featuring posts that mention them or that have recipes containing them.
Buffalo Trace White Dog 125-proof
House Spirits White Whiskey
House Spirits Slab Town Whiskey
Jack Daniels
Koval Lion's Pride Dark Millet
Buffalo Trace
Eagle Rare 10-year Single Barrel
Jim Beam
Kirkland Small Batch
Maker's Mark
Maker's 46
Pappy Van Winkle's 20-year
Woodford Reserve
Jim Beam Rye
Old Overholt Rye
Rittenhouse 100
Rī
Templeton
Aberlour 16
Bunnahabhain 12
Dewar's 12
Glenfiddich 12
Glenlivet Nàdurra 16
Glenlivet 12
Glenrothes 1985
Macallan 12
Mackinlay's Rare Old Highland Malt (Shackleton Antarctic Expedition 1907 Re-creation)
Oban Distillers Edition 1993
Scott's North of Scotland 1964, 45-years
Speyside 12
Infused
Bacon
Earl Grey Tea
Beefeater
Bol's Genever
Bombay
Hendrick's
North Shore #6
Plymouth
Plymouth Sloe
Ransom
St. George Terroir
St. George Botanivore
St. George Dry Rye
Tanqueray
Tanqueray Rangpur
Infused
Pineapple/maraschino/Campari
Grey Goose La Poire

Ketel One

Rain Organic
Sky
Svedka
House-infused
Espresso
Lavender
Red Currant
Rhubarb
Serrano Pepper
Vanilla Bean
Appleton VX
Bacardi Light
Cruzan 151
Cruzan Aged Gold
Cruzan Black Strap
El Dorado 15-year
Flor de Cana 4-year
Gosling's Black Seal
The Kraken
Lemon Hart 80
Lemon Hart 151
Mount Gay Eclipse
Smith & Cross
Calvados Boulard Grand Solage
E & J
Hennessy VS
Laird's Applejack
Tequila/Mezcal
Jose Cuervo Gold
Kirkland's Añejo
Sauza Hornitos Reposado
Sauza Hornitos Silver
Sombra Mezcal

Patron Silver
Dolin Dry
Dolin Rouge
Carpano Antica Formula
Cocchi Americano
Imbue
Martini & Rossi Red (sweet, Italian)
Martini & Rossi White (dry, French)
Noilly Prat Dry
Liqueur and other spirits
House-made

Blackberry Liqueur

Hanson's Mount Lemmon Limoncello
Amaro and Potable Bitters
Grappa
House-made Syrup, etc.
Bitters, Tinctures, etc.
Amargo Chuncho
Angostura Aromatic
Bitter Truth Celery
Bittercube Bolivar
Bittercube Cherry Bark Vanilla
Bittercube Orange
Bradstreet Orange
Bradstreet Springtime
Fee Brother's Cherry
Fee Brother's Grapefruit
Fee Brother's Peach
Fee Brother's Whiskey Barrel-Aged
Jasmine Blossom Water
Regan's Orange #6
Rose Blossom Water
Urban Moonshine Organic Bitters
Urban Moonshine Organic Maple
Urban Moonshine Organic Citrus
Wine and Champagne
Plenty. Mostly red. Different cabinet!