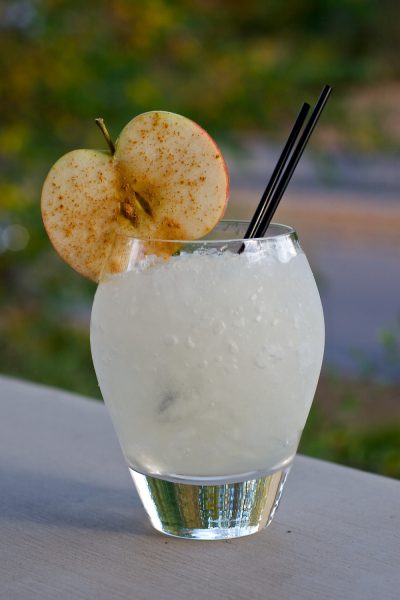 Last year, the New York Times ran an article featuring another fantastic cocktail by Bobby Heugel of Anvil, Houston. At the time, we didn't really think much about it, but looking back, the simplicity and the seasonal significance right now make it a perfect feature for the Drink of the Week.
We are referring to the Apple Smash, a basic rum cocktail that makes great use of fresh apples both in the drink and for the garnish. With so many different apples available this time of year, why not give this easy recipe a try? After all, fresh apples are underused in cocktails and it's nice to have a recipe that works without requiring a bunch of odd ingredients. In other words, you probably have everything you need to make this drink right now—just grab some apples and you are ready to go. Heugel suggests Honeycrisp, but it's fun to try several varieties to see how it changes the flavor of the drink.
Using a white rum allows room for the apple flavor to develop in this drink without a lot of distraction. Like a good pie filling, a bit of lemon juice helps bring out the apple's flavor along with the sugar. The sweet and sour balance should support and enhance the fruit, not hide it. Finally, a dash of decent bitters adds a touch of spice to bring it all together. You can certainly use Angostura, but Fee's Barrel-aged is suggested for its winter-spice character. We probably wouldn't use orange bitters or Peychaud's here. Smell your bitters if in doubt. If you detect aromas of cinnamon, allspice, nutmeg, caramel—chances are it's going to work well with apple. But by all means, experiment with what you have.
Apple Smash by Bobby Heugel
2 oz white rum
.5 oz lemon juice
.5 oz simple syrup (1:1 ratio)
dash of bitters (such as Fee's Barrel-aged)
two large apple slices
cinnamon

Mash a large apple slice in the base of a mixing glass with a muddler. Add the other ingredients except the cinnamon. Shake with ice and strain into a highball glass filled with crushed ice. Garnish with a cinnamon-dusted apple slice.
Experimentation will prove the point, but we think more is more with this drink. The stronger the flavor of the apple you use, the better it will taste in the cocktail. We just ran out of SweetTango apples—the juicy tartness would have been perfect. Instead we settled for Cortland which is medium-sized and allowed us to take a nice center cut for the garnish. After thoroughly muddling three little wedges in the drink itself the flavor came out just right, although we wish we had doubled the overall volume. If given a choice, we would lean toward varieties known for use in pies. Such apples may not be favorites for eating, but the added tartness and concentration of flavors will do wonders in a cocktail. This drink is a refresher that is very satisfying in these last warm days of autumn.
It's hard not to think about Apple today, even though the selection of an apple-flavored cocktail for the Drink of the Week is purely coincidental. Whether you make this or something else, we invite you to join us by raising your glass to Steve Jobs. May his legacy inspire all of us to Think Different and to pursue our dreams.