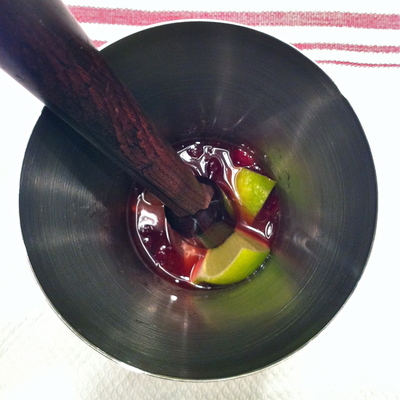 This drink of the week is pretty easy to pull off. It's a Caiprissima, which is like a Caipirinha only it uses rum instead of cachaça, and of course, this one also has cherries in it. According to our notes, we saw this somewhere back in June so it's probably a summer drink. It's been raining in December around here, so a summer drink sounds like a good idea right about now. This Caiprissima variation was created by Meaghan Dorman of Raines Law Room, Manhattan. If you are familiar with the Caipirinha, you know the drill—just use rum and throw in some cherries!
The process goes something like this: Take some pitted cherries and drop them into a shaker. Add your simple syrup (or just a couple spoons of sugar if you prefer) and muddle them into oblivion. Drop in half of a lime cut into four chunks and muddle these too. We suppose you could just muddle all of this at once if you think you can get all of the juices out of everything. Add your rum, ice, then shake it until cold and pour the whole works into a rocks glass.
Cherry Caiprissima by Meaghan Dorman
2 oz white rum
.75 oz simple syrup
3 cherries, pitted and halved
Half a lime, cut into quarters

In a cocktail shaker add simple syrup, cherries and lime quarters. Muddle to extract all of the juice. Add the rum and 6 ice cubes. Shake hard and pour everything into a rocks glass.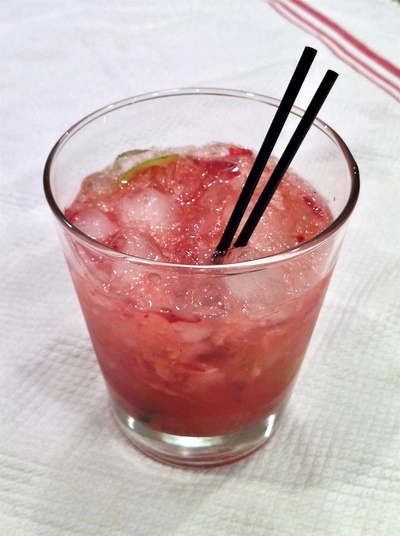 We used 6 cherries because ours were small Balaton sour cherries that we hand picked in Wisconsin this summer. In addition to using them to make a fantastic cherry liqueur (more on that later), we saved a bunch for jam and froze the rest. So, we pulled these out of the freezer and don't think there is anything wrong with using frozen cherries in this as long as you let them thaw so you can muddle them. Come to think of it, this would probably also work fine using cherry preserves if you adjust the amount of simple syrup.
The lime dominates the flavor of this drink as it probably should given the style. But the cherries do add something extra that is worth the tiny additional effort. It has a rustic look in the glass with all of the pulp and peel, but the color combo is beautiful. Give this a try, and while your at it, why not make a few variations. By changing the fruit, this cocktail could go in lots of different directions. Let us know what you try in the comments below.