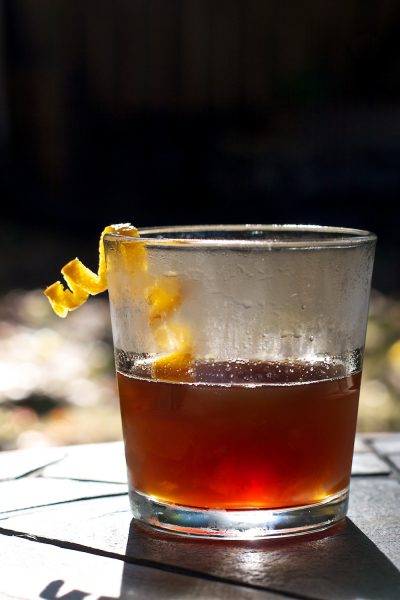 Here's a nice cocktail to drink while curled up next to the fireplace. It's big and bold, salty and sweet, and a little bitter too. You could say it's everything but sour. It comes by way of Marvel Bar's Pip Hanson and appears in both The American Cocktail book and Northstar Cocktails. During the colder, darker months, it's hard not to get excited about cocktails like this one. It's also pretty easy to make for how complex it tastes, and it uses an ingredient we've never featured on Summit Sips until now.
The unusual ingredient is Nocino (no-CHEE-no), a dark Italian walnut flavored liqueur made from unripe green walnuts. The flavor is sweet, luscious and deeply nutty, but often still high in alcohol. We were first introduced to it a couple years back at the Bradstreet Crafthouse where it plays prominently in their Black Walnut Old Fashioned, a cocktail that uses the liqueur in place of sugar for their twist on the popular classic. One brand that is getting easier to find is Nux Alpina which comes from Austria. There's also Toschi Vignola Nocino, or their Nocello which is made from walnuts and hazelnuts. In northern Italy, nocino is often a homemade ingredient. Green walnuts are soaked in alcohol which is later mixed with simple syrup. The high-proof liqueur turns black in the process and sometimes spices are added to enhance the flavor. We haven't made it ourselves (our bottle will probably last a long time) but a recipe was published a while back by Imbibe Magazine. Whether you use Nux Alpina, a homemade nocino, or a nocello, they will all work equal magic in this drink.
Bitter Branch by Pip Hanson
3 oz rye
1 oz Cynar
.5 oz nocino (or nocello)
1 dash salt water

Combine rye, Cynar, nocino and salt water in a mixing glass, stir with ice, then strain into a chilled rocks glass. Garnish with an orange twist and a candied walnut.

Notes:
To make the salt water, combine 2 Tbs sea salt into a 1/2 cup boiling water, stirring till dissolved and chill, or follow instructions here.
We last used a salt solution in the the Night of the Hunter cocktail to create the illusion of salty caramel. This time, the salt helps develop the complex flavors in the ingredients and brings them all together. It's definitely a sipper, but one that gets better as you go. The bitterness isn't the dominate flavor, but as the name kindly suggests, the Cynar does carry through. Research has shown that salt can actually counteract bitter flavors in a drink, but a full ounce of amaro is a lot to overcome. We tried doubling the amount of salt solution, and although this further enhances the flavor of the drink, it still retains a somewhat bitter finish. That's not necessarily a bad thing!
You'll definitely want to freeze your rocks glass for this. It's a sipper that deserves to be savored, but it doesn't have to get warm in the process. Ample dilution is also important. As written, the recipe is a full four and a half ounces before adding ice which is a big drink by classic definitions. We cracked six 1-inch cubes of ice for stirring and just barely took the edge off. You want some bite, but make sure you adequately chill the cocktail with plenty of ice and lots of stirring. You may want to scale the proportions back a little if all you want to do is try this out, but be sure you are getting a nice proportion of water into the cocktail either way.
We skipped the candied walnuts and went with just a pigtail orange twist garnish. On the nose, the orange comes through as it should even before the first sip. As it hits the tongue, the salt is there, seasoning the rye and the sweet walnuts followed by the soft bitterness and herbal complexity from the Cynar. If you are a Manhattan fan or you love a spirit driven cocktail, this is for you, but be prepared for an assault of flavor. You will definitely taste the rye whiskey in this drink. We used Templeton, but Pip Hanson suggests Rittenhouse. Actually, this cocktail has already evolved into something at Marvel Bar called the Oakenshield which appeared on their menu for a time. We assume the name is a reference to Thorin Oakenshield, leader of the Company of Dwarves in J.R.R. Tolkien's The Hobbit. This updated version swaps a mildly smokey Scotch for the rye and the effect is so delicious we probably should have made it the Drink of the Week. So, scratch the recipe above and sub Scotch whisky instead of rye. The Drink of the Week is the Oakenshield. Gandalf approves.