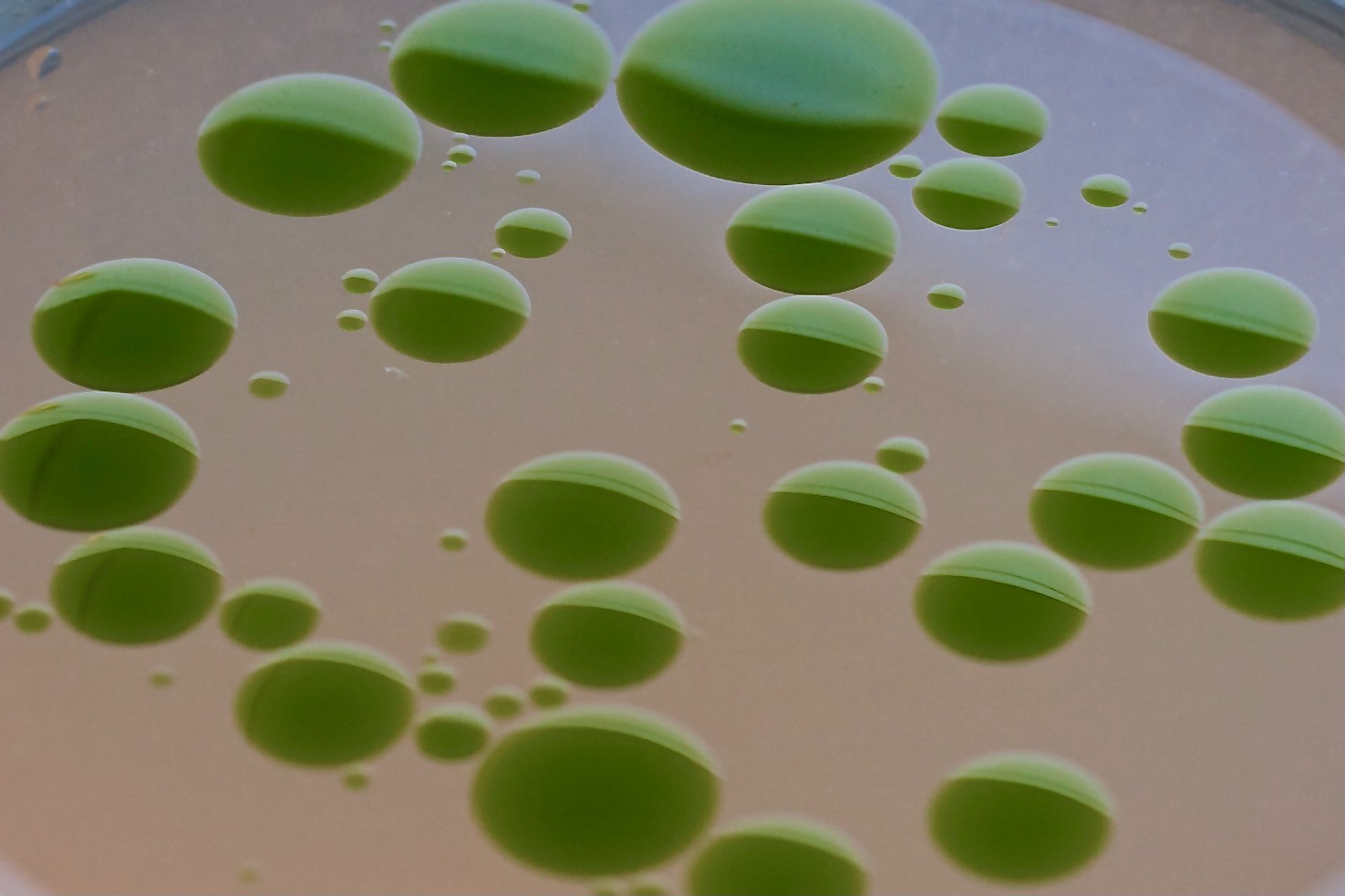 Yesterday, a family member mentioned they were searching for other ways to use basil in a cocktail. The first thought was to do a search on Summit Sips to see what we had to offer. Most of our basil references point back to the Gin Basil Smash which is a wonderful cocktail, but that was old news. Of course, you could muddle some basil in just about anything and have a nice new riff on an old classic, but they were after something a little more interesting.
Then, we remembered a cocktail from the Town Talk Diner a while back called the Jackson Pollock. It's basically a gin sour made using grapefruit and lime juice plus sparkling wine, but the feature that makes this cocktail so unique is the inverted basil garnish. Basil oil is eye-droppered into your cocktail glass first, and then the chilled cocktail is strained over the top. As the chilled mix hits the small pool of oil, hundreds of little droplets start swimming about, dripping up to the surface of the drink. It's like Jackson Pollock, dripping paint onto his canvas! The deeply scented, emerald green oil lovingly mingles with every sip of the rosy grapefruit backdrop. It's delicious. And as you drink, the droplets combine and start to swirl around.
About a year ago we decided to try making basil oil but could never get it quite right. Instead of the wonderful green, ours always shifted toward brown. Ensuring that herbs or vegetables retain their color is a common challenge for chefs, and the solution turns out to be pretty simple. You need to blanch the basil leaves. Submerge them in boiling water for about 10 seconds, then transfer them to ice water. This locks in the color. Once we realized the trick, making basil oil was pretty simple:
Basil Oil
1 cup blanched basil leaves
.5 cup neutral flavored cooking oil (canola?)

Blanch your basil by submerging in boiling water for ten seconds. Then, transfer to ice water. Once cool, remove from water and pat dry or remove water in a salad spinner. Measure the volume of basil leaves and combine with half that amount oil. Puree the mixture thoroughly until the oil changes from a yellow color to deep green. Don't be concerned about pieces of basil in the mixture. Strain the puree by allowing it to drip from a cheesecloth sling, fine mesh strainer or paper towels. The oil you collect can be used as a garnish or to dress your next meal! Keep refrigerated and it should last several days.
The truth is, you could probably make a lot of herbal polka-dot garnish oils this way. Mint might be a good candidate. When we asked the bartenders at Town Talk what they put in the Jackson Pollock, we got the ingredient list: Bombay Sapphire gin, house grapefruit-lime sour, sparkling wine and the basil oil. Besides needing proportions, we never really paid attention to how they combine the sparkling wine. You certainly can't shake champagne without risking an explosive mishap, so maybe it's added to the shaker at the end. We just don't remember. You'll have to play with the amounts to get your sour just right, but until someone wants to correct us [cocktail creator, Nick Kosevich corrected us!], here's our version of the Jackson Pollock:
Jackson Pollock [corrected]
1.75 oz gin
.75 oz red grapefruit juice
.75 oz simple syrup
.5 oz sparkling wine
.125 oz basil oil

Place basil oil into the bottom of a cocktail glass. Add everything but the sparkling wine to a mixing glass and shake with ice to chill, top with the sparkling wine. Double strain mixed ingredients over the basil oil in the cocktail glass in front of your guest and watch your masterpiece come to life! Add more drops of basil oil to the top as desired.

[Edit: Sadly, the Town Talk Diner closed on January 16th, 2011. Click here to read what Nick, creator of this cocktail and many others, had to say about it.]