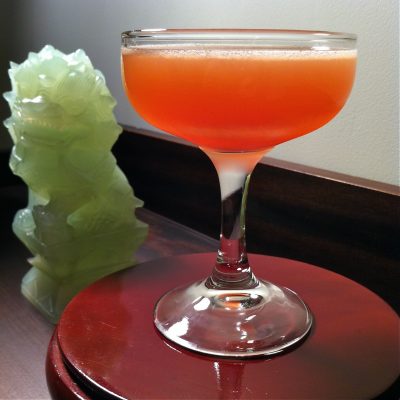 Here's a cocktail that goes back to 1933. According to Ted "Dr. Cocktail" Haigh's Vintage Spirits and Forgotten Cocktails, it comes from an old pamphlet. As it's presence in Haigh's book confirms, the Communist is more of a forgotten cocktail than a classic, although with this name we are surprised it's not well known. It is possible it might have been unwise for patrons to enthusiastically call out, "I'll have a Communist, please!" if they wanted to avoid more than just a some strange looks over the years.
Since we are no longer living in the McCarthy era, it's worth the effort to try making this. It's also another good reason to get some Cherry Heering which may not appear as often as other liqueurs, but shows up in some fantastic drinks like the Singapore Sling and the Blood and Sand.
Communist
1 oz gin
1 oz orange juice
.75 oz lemon juice
.5 oz cherry brandy (Cherry Heering)

Add ingredients to a shaker with ice and shake until cold. Strain into a chilled cocktail glass.
Speaking of the Blood and Sand, the combination of orange and cherry reminded us of that cocktail, but the Communist takes those flavors in a different direction. The balance of lemon keeps all of the sweetness under control and the gin helps to emphasize the bright flavors of the juice. You really need to use fresh fruit in this cocktail, and although it may be hard to find the best oranges for juicing, we believe fresh-squeezed is always better than frozen concentrate. The citrus juice also assures that nothing you can do will make this cocktail clear, so heavy shaking is the fastest way to chill the drink. This often leads me to double-strain when pouring to remove the pulp and ice shards. We like the swirl of tiny bubbles that forms on the surface of a colorful, but otherwise undecorated sipper. And yet, the predominance of fruit juice makes this drink refreshing—possibly an interesting alternative to Mimosas, Bloody Marys, or other morning revivers.
You don't have to feel political about it. Just try it, and recognize a good drink when you taste one.