Scan the liquor cabinet for base spirits and you might find a sad bottle of pisco that always seems to squeeze itself into the darkest corner. That's a shame because there's nothing actually wrong with pisco—it's just that there are only a handful of cocktails you can find that use it. Of course there is the Pisco Sour plus old references to Pisco Punch, but aside from a few recipes that pair this clear brandy with Galliano, you just don't see folks using it much. Just because recipes don't exist in abundance doesn't mean it's not popular. The Pisco Sour is a fantastic drink and depending on what part of the world you are in, it can even be the most important cocktail on the menu. Having already covered it some time ago, we decided there's no reason it can't be used as a platform for new creations.
That's when we remembered stumbling across one such variation a couple of years ago from a handful of youtube videos featuring Toby Maloney at The Violet Hour. His Iron Cross cocktail is an enhanced version of the Pisco Sour that takes the basic recipe and transforms it into an intense floral experience. If your bottle of pisco is feeling neglected, it's high-time you remembered how wonderful these drinks can be when you give this a try:
Iron Cross by Toby Maloney
1.5 oz pisco
.75 oz lemon juice
.75 oz simple syrup
1 egg white
3 drops orange blossom water
2 dashes summer bitters
Angostura bitters (garnish)

Add everything but the Angostura to a shaker without ice and "mime" shake. This silent action premixes the ingredients and builds a protien emulsion. Add ice and shake very hard until your arm is sore. Allow the drink to settle a moment, then strain it into a chilled cocktail glass. Garnish the surface with drops of Angostura bitters and swirl them with a toothpick.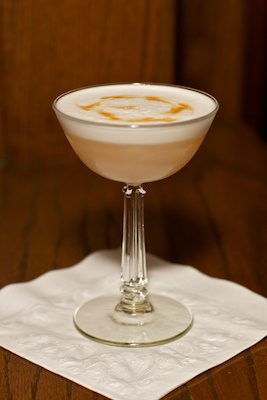 You find different opinions about the sour formula in recipes for the original Pisco Sour. Some will call for lemon, others for lime. This confusion has been attributed to mistranslation of the ingredients. In any case, we are using lemon here in equal proportion to a 1:1 simple syrup, but what really sets this version apart is the addition of orange blossom water. Orange blossom (or orange flower) water is very potent. Three drops is enough to flavor anything, and more will ruin your drink. The aroma can quickly fill a room, so add the drops carefully, or do so over a spoon. The floral aromatized effect here is very similar to that of the Ramos Gin Fizz.
You may be wondering what is meant by "summer bitters" in this recipe. According to Toby, this is a seasonal house recipe at The Violet Hour that has grapefruit and lavender notes. We may be getting a jump on the season a bit, but in St. Paul, we're getting awfully tired of this winterless winter. Now, most of us don't have our own summer bitters on hand, so we suggest a little improvisation here. By the description, we are going for floral and citrus accents, so Peychaud's bitters might work well alongside grapefruit or a nice twist of oil from a grapefruit peel. I added a dash or two of violette liqueur. That's not exactly lavender, but the effect works nicely and it won't spin out of balance if you add just a little or go light on the simple syrup.
When it's all shaken and done, this cocktail gets topped with a lovely meringue that you can only get by properly emulsifying the egg white. Do this by shaking very hard for a very long time. The mime shake (or dry shake) without ice makes this process a lot easier by introducing air before the chilling process, but it's really not finished until you add the ice and continue until the shaker is frosty and your arm is sore. Be sure your glass can accommodate the meringue which pours from the shaker at the end. Top the result with 4 drops of Angostura, scenting the froth with spices. According to the video below, The Iron Cross is named for how your arm feels after shaking this cocktail! If you have ever watched men's gymnastics you will probably recognize the move on the rings exercise.
With flavors this good, there's no reason pisco should ever get lonely. Adjusting the bitters isn't the only way to explore your own renditions. Replacing the simple syrup with different liqueurs could do wonders. I'd try St-Germain, Licor 43 or Benedictine, or perhaps take this a different direction with something like Yellow Chartreuse. The egg white plays an important role here, but you could drop it in your own variation. Pisco is underutilized. Let's fix that. Do you have suggestions or combinations you have tried? Let us know in the comments below.