Normally, we don't reach for tonic when we want a cocktail. The old G&T may be a popular choice, but we think it's because people don't know what else to make with gin. It's a shame because many of the best classic cocktails call for gin—not vodka—not only because vodka was unknown in the pre-prohibition era, but because gin brings something extra to a cocktail that simply isn't there otherwise—and we don't mean juniper. It may be a requirement in gin, but not all brands choose to emphasize juniper flavor, allowing other botanicals, citrus and even spice to play the center role. Yet, even with strong, piney examples, gin is transformed by other ingredients in a way that can be hard to explain to people who think they are gin-averse. But tasting is believing.
On a recent trip to Minnesota to visit some of our former haunts, we happened to grab a meal at the Red Cow. Their cocktail menu includes a delicious riff on the classic Gin & Tonic with something extra—cold brew coffee. Over the past couple of years we have noticed coffee cocktails growing in popularity with seemingly strange combinations like coffee and lemonade or recipes that combine coffee with tonic like our example here.
Cold Brew & Tonic by Ian Lowther
1.5 oz gin
3 oz tonic
2 oz cold brew coffee
1 dash Bittercube Bolivar bitters

Build in a lowball glass over a large chunk of ice by combining gin, tonic and bitters. Float cold brew on top by pouring over the back of a bar spoon.
Several details that are worth mentioning can make what would be a good drink on paper into a great drink in the glass. First, Lowther uses Gordon's gin. Hey, if it's good enough for James Bond, it should be good enough for us, right? Actually, Gordon's isn't normally found near the top shelf. It's an economical choice—an assertive London Dry gin that does the job. We aren't looking for cucumber or rose petals here, folks, and a subtle gin would be lost in the other flavors. So, pick something bold and typical. There's no need to break the bank.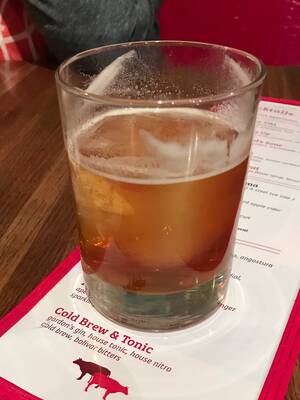 Second, Red Cow uses a house tonic. That means someone like Ian has to get to the restaurant early to do some homemade experiments. We made tonic years ago, and more recently we have been following Jeffrey Morgenthaler's updated recipe in his Bar Book, and we will use it from now on. House tonic is definitely the way to go for this drink, with citrus and spice flavors that will make the best G&T you've ever had. Fortunately, there are also a growing number of commercial alternatives you can try. If you go the homemade route, be sure to figure out the proportions of your syrup to seltzer to get to three ounces combined.
Third, the restaurant has cold brew coffee on tap, under nitrogen. That means they can dispense it as needed into chilled glasses to their customer's amazement as they watch the tiny cascade of bubbles turn into a glass of cold coffee with a frothy head (just like Guinness stout). While nitro cold brew is delicious, the nitrogen here probably just adds some pizzaz as it helps to suspend the coffee layered effect. Most of us can't pull this off at home, so just use a good, smooth cold brew which you can mix from a delicious concentrate, make in bulk using a toddy, or however else you like to make it. Try not to use cold coffee from yesterday morning.
The final touch is the bitters. Bittercube Bolivar bitters is made by two local proprietors, Nick Kosevich and Ira Koplowitz. We have always been big fans of Nick all the way back to Town Talk and once met Ira during a Bittercube promotional event. That was early days, and fortunately, Bittercube bitters can be found almost everywhere now. Bolivar is a floral aromatic bitters with cinnamon spice and dried fruit flavors.
This is more than a just a Gin and Tonic, it's an honest, balanced coffee cocktail that happens to have gin as a base. The tonic brings an acidic bitterness—flavors that might have been present in the coffee had it not been cold brewed. This might be why these flavors work so nicely together. We love this drink, and we'd go back to Red Cow over and over to order it!