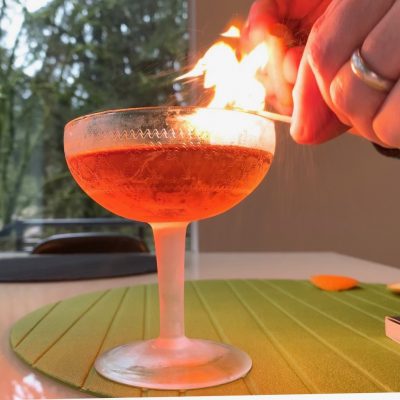 The first time we came across Amer Picon it was when we read the recipe for the Brooklyn Cocktail in Ted "Dr. Cocktail" Haigh's excellent book, Vintage Spirits & Forgotten Cocktails. At the time, we were more interested in exploring the Brooklyn variations, adored by many and no doubt our favorite class of modern cocktails (drinks like the Red Hook, Greenpoint, Bensonhurst and others). Yet, we never bothered with the Brooklyn, which seems almost absurd at this point. We will get there soon, however.
The problem with the original Brooklyn is the Amer Picon, a bitter orange ingredient from France that is simply unavailable in the US. There are alternatives. Ted Haigh recommends using Torani Amer which may or may not be difficult to find, while David Wondrich recommends subbing Amaro CiaoCiarro and orange bitters. Seattle's Jamie Boudreau even tried whipping up a house-made version using Amaro Ramazzotti, Stirrings orange bitters and an orange peel tincture—with highly acclaimed results. For no good reason, we avoided all options and continued for several unfulfilled years until we obtained a bottle of Torani Amer!
One would think after all this time we would be all over the Brooklyn cocktail that has inspired so many other great recipes. Yet, today, we are featuring the Jaguar, a tequila cocktail that kinda blew us away.
Jaguar
1.5 oz blanco tequila
.75 oz green Chartreuse
.75 oz Torani Amer
dash orange bitters

Stir with ice, then strain into a chilled cocktail glass. Garnish with a flamed orange peel (discarded).
We are not usually as excited about tequila drinks, but this one has us reconsidering. It is fair to say that the spirit is somewhat hidden here. Knowing tequila is the base is one thing, but if someone blind-served us this cocktail, we might not call out the agave, mistaking it for a gin drink. Yet, given the complexity, we like to think of this as a Manhattan lover's alternative. It is definitely boozy with an herbal orange backbone. It has a kick that is obviously not whiskey but a flavor profile that seems a long way from tequila.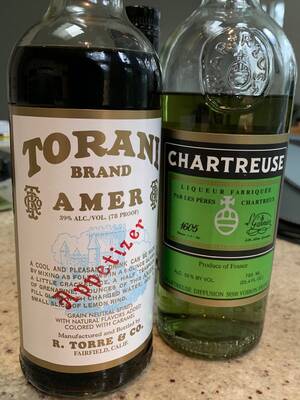 We used Lunazul silver to make this drink, but any decent brand will do. This recipe also includes green Chartreuse. While it may seem like an expensive indulgence, Chartreuse is worth every penny. It appears in some of our favorite classics and our bar cabinet will always include a bottle. For over 400 years the fact remains that there is no substitute for Chartreuse. The featured ingredient, however, is Torani Amer. You might recognize the brand which is common in coffee shops. Torani makes a variety of flavored syrups, but this is their only product with alcohol.
The garnish features the infamous flamed orange peel. This is fun to do for unexpecting guests, but it is more than just a show. The spray of orange oil stays on the surface giving the drink an added nose of citrus. To pull this off, slice a disc off the peel of a fresh orange—the harder the peel the better. Light a match with one hand, pick up the orange disk with the other and gently warm it over the flame. Then, line up the peel over your glass and place the match between them. Give the peel a squeeze, bending it in half while the oils spray through the match flame and onto the drink. You will be rewarded with a burst of flame and a nicely scented cocktail. Blow out the match and rub the peel around the rim of the glass before tossing it away.