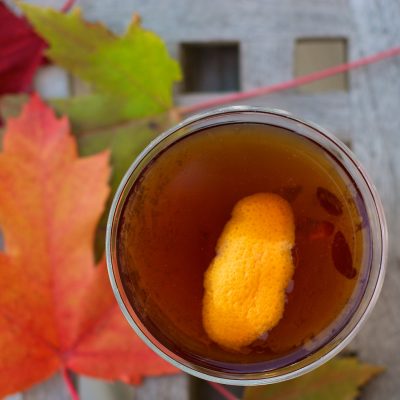 Last year during the month of October we shared a series of Halloween-themed cocktails that are all great classics. The Corpse Reviver No. 2, Satan's Whiskers, Trader Vic's El Diablo and Don the Beachcomber's Zombie. We couldn't let the month go by without adding another ghoulish recipe to the list. This year we are sharing our interpretation of something we had at the Bradstreet Crafthouse back in January.
Although it's no longer on the menu at Bradstreet, every time we look at the ingredients we are bitten. This is not for the faint of heart. First of all, it's an all-spirits drink, and while that has the benefit of avoiding fresh juices making it easier in some respects, it also packs a wallop. This isn't something all springtime-refreshing and peppy. It's an autumn drink that is dark, herbal, complex and bitter—like a Negroni that fell under the spell of Green Chartreuse.
Fangs Out from the Bradstreet Crafthouse
Summit Sips version
1.5 oz gin
.75 oz Carpano Antica Formula
.75 oz Cynar
.25 oz Chartreuse Green
2 dashes orange bitters

Stir with ice, strain. Garnish with a flamed orange peel.
Fangs Out isn't shy. It gets its bitter bite from a healthy dose of Cynar. Combine this with Carpano Antica Formula vermouth—a bold and delicious red with seductive vanilla notes—and you already have a lot going on. Layer these on top of your favorite gin and you have a wonderful riff on the Negroni starting to take flight. Now, swirl in a splash of Chartreuse and garnish it with a flamed orange peel and it becomes almost supernatural.
Honestly, Fangs Out may be too much cocktail for some people. It's definitely not for everyone. You should not make it the signature drink for your Halloween party. Stick with one of the classics above, unless your guests are all cocktail snobs and craft bartenders. But if you have already fallen victim to the scary bitter spectrum of flavors, or you are inexplicably drawn to spirit-driven sippers packed with herbal complexity like we are, you may not be able to resist inviting this recipe into your home.