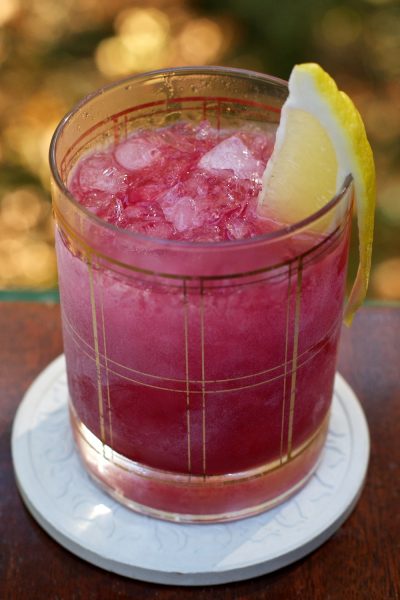 There are so many creative ways to sweeten a cocktail beyond using simple syrup. We have posted recipes over the years that make use of agave nectar, honey, liqueurs, and even jam. We love the idea of using fruit preserves as a way to add flavor, color and sugar. Jamie Boudreau's Breakfast Collins is a great example, and today we'd like to share another. This is called the Briar Patch cocktail and it was created by Portland's Jeffrey Morgenthaler of Clyde Common. It appears in the book, The American Cocktail which features 50 recipes from craft bartenders across the country.
The basic concept is similar to Boudreau's recipe, taking a sour formula and using jam as a sweetener. Where Jamie's Breakfast Collins subs rum for the base spirit in a classic Tom Collins, the Briar Patch sticks with gin and opts for crushed ice, skipping the club soda. The smaller ice chills the drink very quickly and makes up for the missing soda as the ice melts to provide added dilution. The extreme cooling of crushed ice creates a layer of frost  on the glass. The result is a cold, refreshing cocktail that remains smooth and light.
Briar Patch by Jeffrey Morgenthaler
1.5 oz gin
.75 oz lemon juice
.5 oz rich (2:1) simple syrup
1 teaspoon marionberry jam

Combine ingredients in a shaker with ice, shake to chill and strain into an old-fashioned class filled with crushed ice. Garnish with fresh berries.
The recipe as written calls for marionberry jam. Outside of Oregon, the marionberry can be thought of as a blackberry, but don't try to convince an Oregonian. Technically, it's true—the marionberry is actually a blackberry cultivar first created in 1945 by crossing two other varieties. But the fact that more than half of the blackberries produced here are marionberries, locals tend to take the difference very seriously. The marionberry is sometimes referred to as the "cabernet of blackberries" for it's superior flavor and complexity. This description is not surprising from a region that also produces great wine.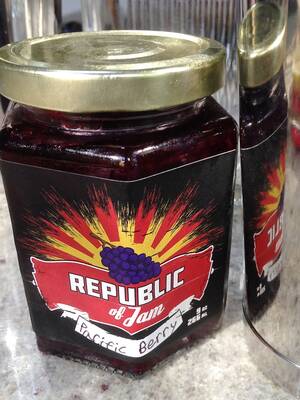 The point isn't to focus on one specific berry, but to expand the scope of this cocktail beyond its regional origin. If you want to make this recipe exactly as written, we highly recommend sourcing the jam from Repulic of Jam in Carlton, Oregon, one of our favorite stops while touring wine country. You can purchase what you need (and more!) from their online shop, or substitute something else. For our example, we used ROJ Pacific Berry Jam. The pacific berry is another delicious blackberry cultivar grown in very limited supply (Republic of Jam batches sell out in hours) making this jam somewhat rare. In addition to blackberry, there's absolutely no reason you couldn't use any favorite jam of your choice. Depending on the sugar content, you may need to tweak the amount of simple syrup (that's why it's in the recipe, after all) in order to balance the flavors.
This recipe is an easy platform from which to launch your own creative explorations. Think of it as a starting place to experiment with things you probably already have in the refrigerator—and if you don't have any jam in the house, the next time you are out for breakfast, slip a packet of jam into your pocket and eat your toast with butter. You can also make do with a lemon wedge garnish if you don't have fresh berries. Should you decide to try a different base spirit, with all of the jam flavors out there, the possibilities are almost endless.