We have always been a fan of incorporating fresh seasonal ingredients into cocktails whenever possible. Living in Minnesota, there's nothing we can do about finding locally grown citrus, but we can use basil, mint, berries and plenty of other local produce—and not just for the garnish. Ideas can come from the farmers market or straight from my own garden. However, an often overlooked ingredient that offers a convenient alternative any time of the year is jelly or jam. Fruit preserves represent an opportunity to inject flavor and variety that you might not always consider. A perfect example of this appeared not long ago on the Small Screen Network with Jamie Boudreau using jam for a simple twist on a classic he called the Breakfast Collins.
The idea behind this is simple: you swap out the sweetener in a cocktail (in this case, we replace simple syrup in a Collins) with a spoonful of fruit preserves. The sweet jam balances the lemon while adding another flavor element to your drink. This handy technique works nicely when you are trying to come up with a fun recipe at a friend's house—maybe somewhere without simple syrup—and it's so easy that it actually feels like you are cheating. We imagine most people already have a jar of some kind of jelly in their refrigerator, but we wanted to try it using something a bit more unusual.
While wine tasting during a recent trip to the Pacific Northwest, my we had the good sense to step into a little shop called Republic of Jam. Located in Carlton, smack dab in the middle of Oregon wine country, they offer a refreshing alternative to visiting wine tasters. Instead of serving wine, they feature a selection of hors d'oeuvres that showcase their gourmet jams. It's a welcome change after hitting a few of the other tasting rooms in town. While browsing the store shelves, we enjoyed a "flight" of jam offerings that covered an entire spectrum of flavors, from sweet to savory. The delicious bites broke nearly every preconception we had about cooking with jam, but we kept wondering about the variety of cocktails one could make with all of the unusual flavors they had.
Breakfast Collins by Jamie Boudreau
2 oz rum
.5 oz lemon juice
1 heaping teaspoon jam
1 dash Angostura Bitters
Club soda

Add the rum, lemon juice, jam and bitters to a shaker with ice. Shake to chill and strain into an ice-filled Collins glass. Top with club soda, give a stir to incorporate the ingredients and garnish with a lemon wheel.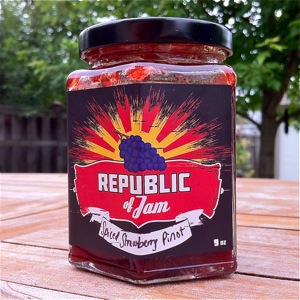 The regular Tom Collins uses gin as the base spirit, but we followed Jamie's suggestion here and used a good, flavorful rum. Mount Gay Eclipse is a fine choice because it has a smooth complexity that works nicely to boost the flavor of the jam without being too harsh. We used Republic of Jam's Spiced Strawberry Pinot. This jam is incredible all by itself. It combines the best strawberry flavor with real pinot noir wine and spices. It's a perfect combination for this drink and we highly recommend it. Of course, you can use anything you have available, and although rum works well with this jam, you might find that a lighter spirit pairs better with yours. As always, feel free to make adjustments to suit your inventory or imagination!
We could have garnished with a strawberry or even a cinnamon stick to bring out those elements of the jam, but instead of over-decorating this drink we decided to use the lemon already sliced. It helps to keep it simple if you are truly drinking this for breakfast. Despite the easy construction, this drink has plenty of flavor and is sure to be a popular thirst quencher any time of the day or night, all summer long.