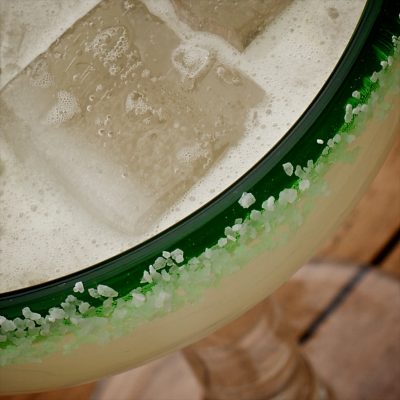 It's Cinco de Mayo, the voluntary holiday when we celebrate Mexican heritage. Although it's virtually ignored throughout most of Mexico, the 5th of May is significant to folks in Puebla where the Mexican army defeated the French in 1862 against overwhelming odds. It was also the last battle in which a country in the Americas was invaded by an overseas army. The holiday has been celebrated in California every year since, and it has become nationally recognized in the United States as well as other countries, much like St. Patrick's Day and Oktoberfest.
In recognition of this day and to pay tribute to our beloved spirit from Mexico, we are posting our favorite recipe for the most popular drink in America—the Margarita. The proportions of ingredients and sometimes the ingredients themselves are often debated. By most standard definitions, the Margarita contains tequila, triple sec and lime juice, but we prefer an enhanced version and find that the addition of lemon and simple syrup bring this cocktail to a new level.
Margarita
2.5 oz tequila
1 oz triple sec
1 oz fresh lime juice
1 oz fresh lemon juice
.75 oz simple syrup (1:1)

Rim half of a margarita glass with salt and add some ice cubes to start chilling the glass. While the glass chills, add the ingredients to a shaker, then add ice and shake to chill. Strain over the ice in your glass and serve.
This is actually a pretty big cocktail sized for those nice, thick, mouth-blown glasses. We should say that most recipes call for silver tequila, but you can get away with others. In any case, shaking with ice is important because it chills and dilutes this drink—a necessary step to tone down the heat of the spirit. Cointreau is the preferred triple sec for this cocktail as it has the best flavor. Whether you use this or a cheaper brand, you may want to tweak your amount of simple syrup to bring the sweet and sour elements into balance. It's amazing how the flavor changes when you use a bit of simple syrup in this drink, and the combination of both lemon and lime gives that sour a little more depth and character.
You may have noticed that we specified rimming only half of the glass with salt. Some people don't like the salt. We do, so we will often rim the whole glass to get some with every sip, but it's nice to give your guests a choice until you know their tastes. Also, this is not the time to use bottled ingredients. Save that stuff for, well, nothing really comes to mind. Just get rid of that stuff. No bottled lime juice, no bottled lemon juice, and please don't use margarita mix. This cocktail is supposed to have a freshly-squeezed flavor in balance with the sweet ingredients to highlight your tequila. This is not a frozen (blended) version—it's meant to be served on the rocks.
¡Arriba!