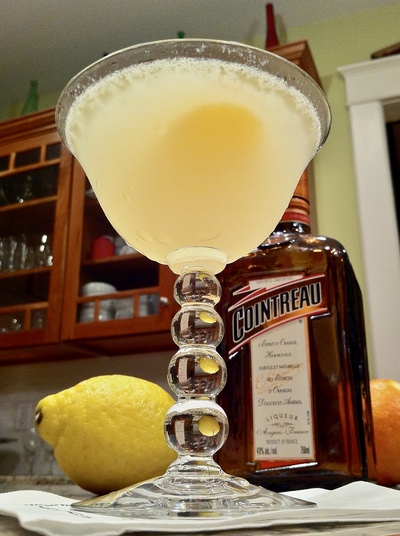 We are already a full week into October, and this being the second scariest month of the year (beware of Income Tax April), it seemed fitting to feature cocktails that would work nicely at a Halloween party. Over the course of the next four weeks we'll cover our favorite ghoulish classics as we work our way toward the end of the month. Today, we want to show you a cocktail that deserves to be on your list of favorites all year long. Although the name may have you running for the hills, this drink may surprise you with its simple recipe and delicious flavor. The Corpse Reviver #2 is our first Halloween Drink of the Week.
It may sound like a potion that can resurrect the dead, but in this case the Reviver is actually a class of cocktails usually considered "morning-after" refreshments. Nothing helps a corpse recover from a wild night of partying than another cocktail, right? It's not that crazy to admit that some cocktails have historically been used as cures for hangovers. The Corpse Reviver #2 first appeared in print back in 1930 in Harry Craddock's Savoy Cocktail Book. Of course, the best example of this kind of beverage may be the Bloody Mary which can sometimes be made into a full breakfast. But in our case, bright and refreshing flavors are here to help get you going while the alcohol numbs the pain. Actually, we don't want to suggest that this or any other cocktail has real medicinal or morning nutritional value. The truth is, the Corpse Reviver #2 is great any time of the day!
The idea that this was once a morning-after cocktail may not be as interesting as the fact that it's number two in what was obviously a line of them. There was indeed a Corpse Reviver #1, and also a #3, but ours has enjoyed a lot more popularity, and is by far the tastiest. This drink is experiencing a revival of its own, appearing on classic cocktail menus all over the world again. And rightly so—it's delicious, with a prominent lemon emphasis. But don't take my word for it:
Corpse Reviver #2
1 oz gin
1 oz Cointreau
1 oz Lillet Blanc
1 oz lemon juice
1 dash absinthe

Add ingredients to a shaker, fill with ice and shake to chill. Strain into a chilled cocktail glass and garnish with an orange twist.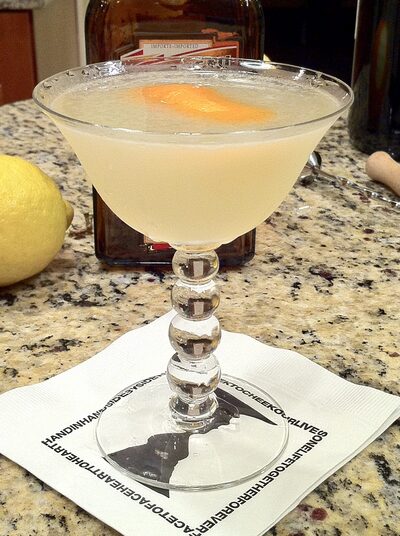 It's easy to remember because it has four ingredients in equal proportions. Only the absinthe is unusual here, but even at just a small dash, this too is pretty hard to forget. It doesn't take much absinthe to overpower a recipe, so make sure you pour as little as you can from the bottle, or to be safe, dash it into your bar spoon first. We actually have two ounces of absinthe in a dropper bottle to use for these occasions or when we rinse a glass to make the Sazerac.
The gin you choose will probably affect the overall flavor, but you can get away with just about anything you like. And if you don't like gin, we are saying that it doesn't really matter because this drink doesn't taste like gin. This is another one of those classics where gin does almost magical things to elevate the other flavors. As for the triple sec, Cointreau is what you want.
You may recall that we used Lillet way back at the beginning of our Drink of the Week adventure in the 20th Century cocktail. It's also a key ingredient in the Vesper. If you don't have a bottle of Lillet in your refrigerator, we will just have to keep giving you reasons to buy some. It's not expensive, and it really is nice to have around. Finally, fresh squeezed lemon juice balances the sweet.
The garnish is an important part of any cocktail recipe. Some drinks have options and can go with one item or another, but here, you want a nice, wide piece of orange peel. Snap the zest to send oils spraying over the surface of the drink, then, rub it around the rim of the glass, and please drop it in with the peel side up, not the ugly white pith. It's Halloween, and everyone wants to see that splash of orange!