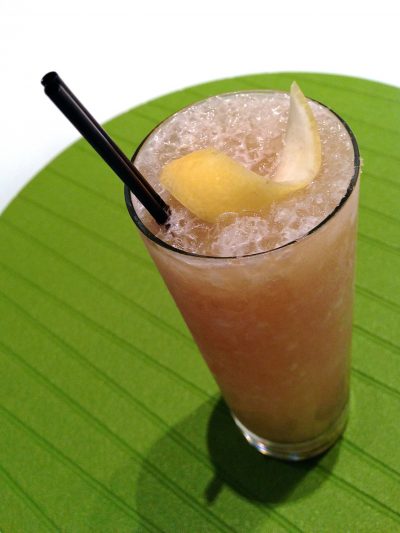 We're all about refreshing summer drinks these days—the easier to make them the better. Most of the time that means tall, simple cocktails without many ingredients. Warmer weather usually pushes us toward refreshing citrus and carbonation as opposed to spirit-driven sippers, but we'd be kidding ourselves if we didn't admit that exceptions do exist. For instance, we can't stop enjoying a strong Mint Julep, nor resist the temptation of more complicated drinks like the Mai Tai. These never fall out of rotation for us, but this month's Imbibe Magazine (July/August 2014 issue) has a great selection of recipes that we probably need to add to our repertoire. One of them stood out as both refreshing and easy to make while still retaining a some complexity and interest. It was part of a gorgeous eleven-page feature about Jeffrey Morgenthaler and his expert cocktail techniques.
It's not an exaggeration to call Mr. Morgenthaler a cocktail celebrity—not because of the magazine article or for running successful bar programs at Clyde Common and Pepe le Moko. The simple fact is that he's been an online inspiration for years, so when we found out he was finally releasing a book about technique, we jumped at the opportunity to support the event at Powell's a few weeks ago here in Portland, Oregon. The Bar Book: Elements of Cocktail Technique is an excellent reference and a fun read that dispels myths and sets you on an efficient path toward getting the most out of great cocktail ingredients.
Morgenthaler's St. Stephen's Sour uses crushed ice—one of the many technical variables available to any cocktail enthusiast. If you don't have a crusher built into the door of your refrigerator's ice dispenser (many of us don't) one good method to get a lot of great crushed ice is to pulse a few cubes in a blender or a food processor. We like the low-tech method of putting whole cubes into a canvas bag and whacking them with a mallet. Whatever you decide to do, crush your ice and use it to fill a tall glass. Then, start mixing up your drink in a shaker. Shake it with whole cubes before straining over the crushed ice.
St. Stephen's Sour
1 oz aged rum
1 oz cognac
.75 oz lemon juice
.75 oz orgeat syrup

Shake with ice, then strain into into a tall glass filled with crushed ice. Garnish with a lemon twist.
From a flavor perspective, this drink is rich, yet approachable and refreshing. The complexity no doubt depends upon the choice of ingredients. Dual base spirits is common among Tiki cocktails and that's probably how we would categorize this drink. For the aged rum we used the Venezuelan Pampero Aniversario which pairs nicely with other ingredients. It has rich cocoa overtones with a simple but delicious character that deepens when mixed with cognac. If you aren't making your own orgeat syrup, pickup a decent bottle. We've heard Small Hand Foods makes a wonderful orgeat.