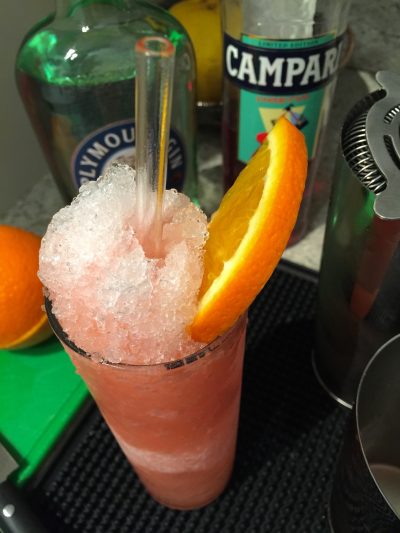 Whether you enjoyed a Margarita on Cinco de Mayo or a Mint Julep for Derby Day, the first weekend in May has plenty of reasons to celebrate craft cocktails. Classics are always a good choice—they represent formulas that are often simple, but solid. Whenever a new recipe appears that rewards us with flavors and surprises us with simplicity, we take note. Such is the stuff that classics are made of. It's not always easy to produce something tasty that reads like it has been around forever. We cocktail nerds have the tendency to overthink recipes—we like to tinker—and with so many options at our disposal, it's just too tempting to add a dash of this or a spoonful of that. So, when we spotted Raul Yrastorza's Chestnut Cup in the March/April 2015 issue of Imbibe Magazine, we knew we had a winner.
The signature cocktail from Santa Monica's Chestnut Club looks like a Julep in a tall glass of crushed ice, but that's where the similarities end. The Chestnut Cup is multi-dimensional, not just sweet and spiritous. The preparation is a bit unorthodox. Shaking with a single cube will start the chilling process while mixing, but the ice is quickly overwhelmed by the warm ingredients. The dilution that results helps cool and elongate the drink before it meets the rest of the ice in the glass.
Chestnut Cup by Raul Yrastorza
1 oz gin
1 oz lemon juice
1 oz Campari
.75 oz orgeat

Add ingredients to a shaker with a single ice cube. Shake to combine, then strain over fresh ice cubes in a tall glass. Top up with crushed ice and garnish with an orange wheel.
The gin base sets up a light, floral character that works so nicely with lemon and orgeat. There is an obvious balance among them—the strong, the sour acid, the sweet almond syrup—but then comes the Campari. Actually, Campari contributes some sugar to the equation but its bitter overtones are what you notice first. However, it doesn't dominate the flavor, and bitterness isn't the only thing Campari has going for it.
We already adore most drinks that include Italian potable bitters, and the Chestnut Cup is no exception. But what is it about this drink that has us so excited? It's probably the orgeat. If we were to break down the recipe and swap in simple syrup, we would have a well-balanced, bitter gin sour. That might be a delicious cocktail too, but good orgeat (especially homemade orgeat) brings a softness to this drink that is hard to describe. The almond nuttiness is almost creamy in a way that adds depth and texture like it does in a Mai Tai. It reminds us of the Peruvian Summer Smash, or maybe a bitter version of a sweet Fog Cutter, although that's taking it pretty far afield. We also appreciate the fact that this is a sophisticated summer cooler and that the mere ounce of gin allows us to have two if we are so inclined. It's also an interesting gateway to other gin cocktails (like many gin classics, this does not taste like gin). We can't help but wonder what another Amaro might do in Campari's place, or how this formula would withstand some base spirit change-a-roo. Whatever adjustments you decide to try or comparisons you make with other cocktails, there's no getting around the fact that the recipe is simple and result is delicious.