This week we had originally intended to write about the Aviation cocktail, but the Aviation is a drink so good that we were able to find an excuse to feature it earlier in the year. It was on this date, December 17th, 1903, that the Wright brothers sustained the world's first controlled, powered, heavier-than-air flight in a craft they built. They are generally credited with the invention of the airplane.
With the Aviation already spoken for, we are describing another favorite: the Paper Airplane cocktail. The 1903 Wright Flyer was definitely lightweight, but it wasn't made of paper. Orville and Wilbur built their frame out of spruce and covered it with muslin. But anyone who has folded a sheet of paper and tried to make it fly can appreciate their achievement. We are hoping you can also appreciate the flavors of this cocktail.
We are not sure why <EDIT: we now understand why> this drink is called the Paper Airplane. It is anything but flimsy. We like Campari, and this drink is a great way to feature it. However, this may not be the one to spring on your friends if they aren't as familiar with the bitter spectrum of flavors. And yet, the drink itself isn't exactly bitter so much as dry.
Paper Airplane Cocktail
.75 oz Buffalo Trace Bourbon
.75 oz Lemon Juice
.75 oz Campari
.75 oz Amaro Nonino

Shake over ice, strain, and serve in a chilled cocktail glass.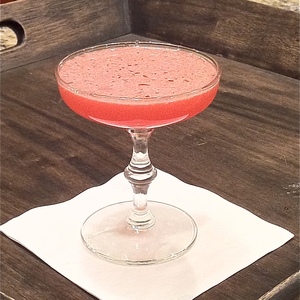 This cocktail is credited to Sammy J. Ross of Milk & Honey, and although it specifies Buffalo Trace bourbon, we've substituted others with success. Also worth noting is that we have two potable bitters in equal proportion in this cocktail. These are different from cocktail bitters which are normally only added in dashes. Of course, there is Campari which plays a prominent role in just about everything that requires it, but we also have the oddly-named Amaro Nonino.
Nonino is an Italian family name and a company that has been making award-winning grappa for over a hundred years. One of their products is Amaro, a bitter digestif. But Nonino is certainly not the only amaro out there. It's also not the most bitter. It has a great balance of sweetness and herbal intensity that makes it a nice sipper as well as a wonderful addition or substitution in cocktails. Amaro Nonino may be a little hard to find, but it's worth the search. We picked up ours at Thomas Liquor on Grand Avenue in St. Paul.
It's not easy to make a drink taste dry with all of this flavor. Maybe that's why we like this cocktail so much—because it's so unusual. When it first hits your tongue you think it's going to be sweet. That's when the surprise hits you and you find it to be crisp and light. And yet there's bourbon in here! Just as you set it down you'll want another sip, and before long, you'll wonder where it all went.