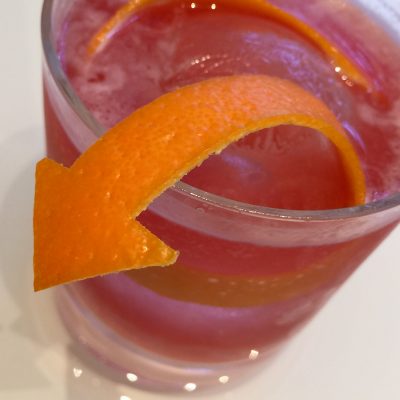 Here's a fun cocktail that is easy to make and tastes great. It's an easy-drinking whiskey concoction that is reminiscent of a sour, but instead of the acidic tang, you get a lightly bittersweet raspberry effect. Grapefruit juice isn't a tart citrus—if anything, it's a little sweet and bitter—and what better time to explore it than at the end of winter. Sure, you could wait for warmer months to make this as a refreshing thirst quencher, but we would rather grab the fruit now and enjoy it.
In addition to grapefruit which is enhanced by the Campari, the Turn Signal also contains raspberry syrup. You can make this easily enough by following our fermented raspberry syrup recipe, but you don't have to take that much time if you don't want to. You could just puree some fresh or frozen berries, strain the juice and add sugar.
Turn Signal by Sean Howard and Daniel Shoemaker, The Commissary
1 oz high-proof bourbon
1 oz grapefruit juice
.5 oz Campari
.5 oz raspberry syrup

Shake with ice and strain into an ice-filled rocks glass. Garnish with an orange twist.
The recipe comes from Sean Howard and Daniel Shoemaker. Their recent Portland, Oregon venture, The Commissary makes fresh ingredients like pressed juices and gourmet syrups and mixers for local bars and restaurants. Their drink was also featured recently in Imbibe Magazine. It only takes a few moments to cut a long horse's neck peel from an orange and trim it up to make the arrow-shaped garnish. We made ours extra long and wrapped it round an ice sphere. Give it a try!