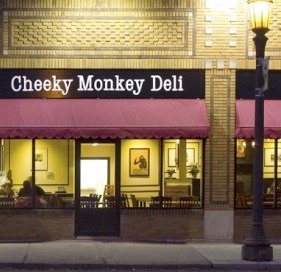 While it's not the same beer-drinking experience as The Happy Gnome across the street where there are dozens of tap beer choices (including several Belgian ales at any given time), the Cheeky Monkey Deli has a good selection of bottles as well as several on draft. The nice thing for me was that they keep their taps clear of Standard American Lagers (that means no Bud, Miller, etc. on tap, folks)!
I seriously appreciate a restaurant that has a small but decent beer selection in a time when there is just no excuse for places that have a dozen versions of only one style. I can't even begin to guess how many times have I asked a server to recite their list of draft beers only to hear, "Bud, Bud Lite, Mich, Mich Lite, Miller Genuine, Miller Lite, Coors, Rolling Rock. . ." and so on, to which I reply, "Thanks, I'll have a glass of ice water." Not that there's anything wrong with a Pilsner—I enjoy a good Czech lager as much as the next average American—but let's be honest, most of these are nearly the same, if not only slightly different when you compare them to the multitude of styles the world has to offer.
I'll admit, I am sucker for anything that comes out of Bell's Brewery. Their Two-Hearted ale is perhaps one of the best IPA taste-alikes in the Midwest, and the Oberon which was available tonight is always a seasonal crowd pleaser. However, I decided to try something new. I picked the Two Brothers French Country Ale. Fully expecting this to be some kind of saison style brew, I was surprised with a gorgeous amber. A light hops balance supported the definite malty character reminiscent of an Octoberfest. I was pleased.
So, there I was, waiting for my food to arrive at the table and sipping a delicious French Country Ale about to enjoy my second visit to the Cheeky Monkey. For those of you who don't know, the Cheeky Monkey Deli is a unique little spot on Selby Avenue in St. Paul that enjoys the former location of Zander Cafe. The proprietor has put together a delicious menu that includes local vegetables and meats that they brine and cure themselves.
On my previous visit, I ate the Cumin Pork which came with lime and cilantro. It was amazing. This time, I tried the meatloaf which was served in a flavorful pan sauce and proved to be a refreshing change from the State Fair food that I ate earlier in the day. The more I look at the menu at the Cheeky Monkey the more I want to try everything, and given enough time, I probably will. Knowing I can also drink good beer will keep me coming back again and again.