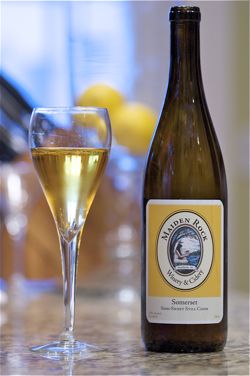 We are just going to come right out and say it: at Summit Sips, we are not apple experts. Not by a long shot. Of course, this refers to the fruit, not the computer. Sure, we've been able to pick up a few basic tips over the years, but apart from making an occasional pie, we don't eat apples very often. We start to see them appear in vast numbers and bewildering variety this time of year down at the farmer's market, but we honestly don't really know a good apple from a bad one.
When it comes to cider, all we ever knew was the giant one-gallon jug called Indian Summer. Then, a few years back (or has it been a decade?) we started seeing bottles of Woodchuck's Hard Cider and a few others. Together with Hard Lemonade and similar malt beverages, we figured these were simply sweetened alcohol products for people who didn't know how to enjoy a good beer. Who knew that here in the US, what we call apple cider is actually a non-alcoholic version of a very popular drink abroad?
Motivated by the opportunity to see bald eagles on Lake Pepin this past spring, we decided to take a road trip down Wisconsin 35 to Stockholm, a quaint little town where we had brunch and enjoyed shopping for antiques and perusing the art galleries. Along the way, we followed road signs up out of the river valley to the Maiden Rock Winery & Cidery.
First, let us say that if you live in the area and you haven't made the trip around Lake Pepin, do yourself a favor and give up a Saturday or Sunday to enjoy a wonderful and easy drive. There's plenty to see and some nice roadside stops to make it worthwhile for any companions. Then, when you've taken in the fall colors, or birds, or whatever you like to do on beautiful afternoons, be sure you arrange a stop in Maiden Rock to experience what we are about to describe.
As we approached the main building, we were met by rows and rows of apple trees. The blossoms had recently faded, but you could see their potential for the months ahead. Once inside the building, we were able to sample virtually everything produced here. Our favorite was the Somerset Semi-Sweet, so-named for it's traditional style of Somerset, England. Over 25 varieties of apples are planted on this 80-acre farm. The fruit is harvested, ground, and pressed to extract the juice which is then fermented, aged, blended and bottled. the Maiden Rock Somerset includes classic cider apples like Kingston Black and St. Edmund's Russet—two apples that we have never heard of before now. Nevertheless, familiarity with the ingredients is not a prerequisite for enjoyment!
Months have passed since our visit, and the moment seemed right, so tonight we finally opened the bottle. Topping up the antique flute, the first thing we noticed is the color. It's not a deep amber but a golden yellow. And although it is lightly carbonated, the tiny bubbles enhance the appearance as well as bring forth the bouquet which is rich and fruity, with hints of pear. One sip and you'll start to wonder why you've been missing out on great cider all these years. The effervescence is subtle, like that of a frizzante gentile, or lightly sparkling prosecco. Perhaps we were expecting it to taste like the regular apple juice we grew up drinking as a kid. Instead, with each sip we find ourselves thinking about when we can return to buy more! Fortunately, they do sell by the bottle and case online.
Certainly, this semi-sweet variety is an easy drinker. Other that we tasted and purchased include the tart and spicy Lake Pepin and the fragrant and tannic Bitter Love. It's actually hard to believe Somerset contains 6.8% alcohol which may be low for a wine but ranks right up there with stronger ales. It's easy to mistake this for Catawba or an artisan apple juice product—you don't realize at first that you are drinking an alcoholic beverage. It may be difficult not to draw the inevitable comparisons to wine and beer, but hard cider is really a product in its own category. Fine examples like these are virtually unknown by average diners-out who may share our former mispconceptions. That's something we hope will change, and we welcome the day when everyone will see Maiden Rock hard cider on a Twin Cities restaurant menu.