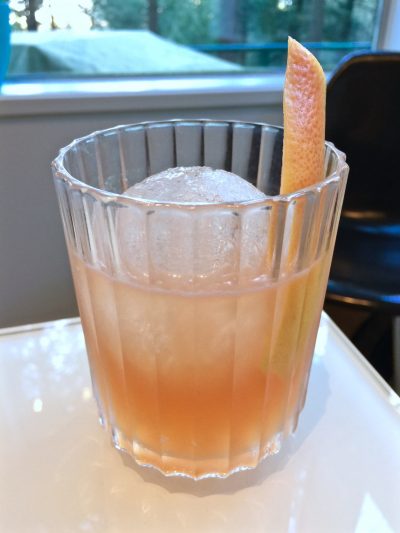 This could be the perfect, simplest blend of your best-tasting ingredients. The floral/citrus Bicycles & Baskets is a whiskey-based original from Kask located here in Portland, Oregon. The menu describes this signature recipe as the perfect drink for a picnic. We won't disagree, but it's actually a drink that can be enjoyed any time. The name evokes images of pedaling leisurely toward a favorite location to enjoy the spring air or summer sun, but it's also a reference to the liqueur made from elderflowers that are supposedly picked by hand in the French hills and transported by bicycle to the distillery. Whichever visual applies for you, this might be a recipe worth scaling up to a batch that can fill a bottle for portability.
Rye whiskey has always held a leading position when it comes to mixed drinks. Its spicy character allows it to stand up amongst other ingredients. If you don't have rye in your cabinet because you like to sip bourbon or Scotch neat, we understand, but you are missing one the great benefits of mixability for which rye is famous. Kask uses the smokier Bulleit rye, so if you have some, use it here. If not, this cocktail is delicious with any brand.
Bicycles & Baskets from Kask, Portland, OR
1.5 oz rye whiskey
.5 oz lemon juice
.25 oz Aperol
.25 oz St-Germain Elderflower
1 bar spoon rich simple syrup (2 parts sugar, 1 part water)
grapefruit peel for garnish

Shake and double-strain into a rocks glass filled with fresh ice. Garnish with grapefruit twist.
Fresh lemon juice provides the acid that balances the sweet ingredients. At only a quarter ounce, St-Germain isn't going to overpower the cocktail with sugar, so you need to add a bar spoonful of rich simple syrup to help keep everything in aligned. Aperol provides a bitter edge to the drink and also helps keep the lemon in check. The final touch is a grapefruit peel garnish. Be sure to express the oils of the peel onto the cocktail before adding it to the glass. This sets up a very interesting effect:
The lemon, elderflower and Aperol combine in ways we can't explain to create the flavor of grapefruit juice. So compelling is this effect that serving it to guests often has them asking if there is grapefruit in the drink. The garnish helps complete the illusion which will start with the scent, confirmed by the sip. We have seen this before in Paul Clarke's Dunniette cocktail which follows a similar formula based on gin. This is just one example of why we love to make cocktails and it will keep going back to Bicycles & Baskets all year long.