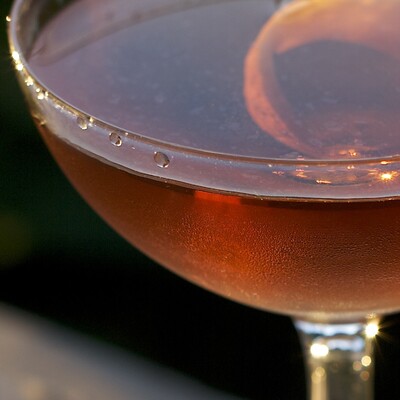 There aren't a lot of cocktails that feature Scotch as the base spirit, and because of that, you don't find very many here at Summit Sips. Over time, we'll slowly add to the list, but it's not the easiest spirit to pair with other ingredients. Besides, most folks that have Scotch like it the way they like it—on the rocks, neat, with water, etc.—and may not be interested in messing with their own personal traditions. Of course, that never stopped us. Let's see, we have the recent Saw Tooth, which is a wonderful way to use watermelon (who would have thought!), the Blood and Sand, an excellent classic, and there's the London Sour for a little Tiki action. But the most common cocktail is probably the Rob Roy, something we have never featured. That's because it's simply a Manhattan that uses Scotch instead of rye whiskey (combine two parts Scotch, one part sweet vermouth, a dash of Angostura bitters).
Without the need to get into a full description of the Rob Roy, what about the slightly more interesting Bobby Burns cocktail? Now we are talking. It's not that different, but it does add something to the recipe that takes it from ordinary (if any Manhattan variation can be considered ordinary) to place much more complex. To get there, we'll need to use a bit of D.O.M. Benedictine.
Bobby Burns
2 oz Scotch whisky
.75 oz sweet vermouth
.5 oz Benedictine

Stir with ice. Strain into a chilled cocktail glass and garnish with a lemon twist
The Bobby Burns cocktail is sometimes referred to as the Robert Burns in old cocktail books. The name is a reference to the Scottish author and lyricist, a famous eighteenth century bard who is often thought of as Scotland's favorite son. In fact, in 2009 he was voted 'Greatest Scot' in a Scottish television poll, so as names go, it's certainly befitting.
It tastes good, too. This is definitely a spirit driven drink so it deserves a decent stir to properly chill and dilute the heat, but the flavors can be wonderful. We put it that way because there are a couple of variables. First, not all recipes call for the same ratio we have here. Early examples will cite equal amounts of whisky and vermouth. Most modern interpretations go with a more acceptable 2:1 ratio so as not to drown your precious Scotch in modifiers. You do still want to taste your base spirit. In fact, we're pouring an even lighter portion of vermouth.
Another potential variation that will dramatically affect the outcome is the amount of Benedictine. Some recipes call for as little as a dash to as much as a spoonful, but ours goes all the way to a half ounce. Why so much Benedictine? First of all, a half ounce isn't really very much, and considering we held back on the sweet vermouth, the drink can handle it. Besides, we love Benedictine's herbal complexity. It drives the flavor profile well beyond expectations. In a Manhattan the vermouth can easily dominate, but here, it fades into the background.
This brings us to the whisky. We used Dewar's 12 year. There's no question that the Scotch you choose will define the overall flavor profile. For some brands the comparison will be subtle; for others, it will be dramatic. A blended variety is probably traditional, but we've seen recipes that specify a single malt. There's no reason to break the bank for this cocktail, but as always, drink what you like and make adjustments according to your own preferences. Give this one a try. It may not have you shouting, "Great Scot!" but if you normally drink Manhattans it might surprise you.