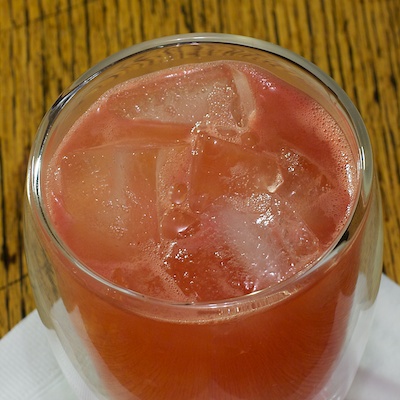 Not long ago, Esquire magazine posted a list of drinks for summer on their website. Among them was this recipe by Evan Zimmerman of the Woodsman Tavern in Portland, Oregon. When we visited the Woodsman over a month ago it wasn't on the menu, but the other day we had a chance to mix one of these and all we can say is wow!
It's certainly not a complicated drink to make which is one of the reasons we love it. It's the first time we've written about a drink that contains watermelon and that left us wondering why we don't see it in more recipes. We don't always have a watermelon around so this was a great excuse to buy one. Finally, this cocktail contains Scotch whisky, and that alone is reason enough to get excited. You just don't find many cocktails involving Scotch, so whenever we find a good one, we feel an obligation to spread the word.
Saw Tooth by Evan Zimmerman
2 oz blended Scotch whisky
.5 oz lime juice
.5 oz simple syrup
3 one-inch cubes of watermelon

Muddle the watermelon with the simple syrup. Add the other ingredients and shake with ice. Double strain over fresh ice in a rocks glass.
There may be four flavors in this drink, but three of them function together as a trio. We found ourselves smiling, sip after contemplative sip. The first thing you notice is the Scotch. This isn't some pricey single-malt, but a nice blended variety with a bit of smoke on the nose and a well-rounded flavor. A hint of peat was enough to confirm our base spirit, but beyond that, you wouldn't know this is a whisky drink.
The sugar and lime are in perfect balance and transform what would have been just melon-flavored water into an incredible mixer. You might expect the watermelon to fall flat, especially after muddling turns it into water, but the lime intensifies it's flavor without taking over. The simple syrup keeps the acid in check while providing just enough support to remind you of a watermelon Jolly Rancher—without becoming too sweet. In essence, this combination is wonderful, and it has us looking into the cabinet for new spirit variations.
You might not think Scotch would work with perfectly balanced watermelon, but it does. In fact, it soars. This is an excellent hot summer drink and we are already thinking of ways to measure out huge chunks of watermelon to calculate a bulk recipe we can serve over ice like punch. Backyard weekends may never be the same.