We heard a rumor that everyone in San Francisco is talking about Locanda's Church cocktail. It's been around since at least last summer, but it can take time for a cocktail to build city-wide momentum. We have family and friends that live in the city by the bay, so this past weekend while they were visiting Portland we asked them about it. They hadn't heard of it. Then we realized that they are all avid readers of Summit Sips and since we hadn't posted the recipe for the Church, how would they find out about it?
We decided to remedy the situation last Sunday by making the Church for everyone to try, and it's definitely worthy of our Drink of the Week. If you happen to live in San Francisco and frequent Locanda, you might already know about it. If not, here's a great drink for summer, or for thinking about summer.
Church Cocktail
1 oz gin
1 oz Aperol
1 oz lemon juice
.5 oz Cocchi Americano
.5 oz gomme syrup

Shake with ice and strain over cubes or a large chunk of ice in a rocks glass. Garnish with an orange twist.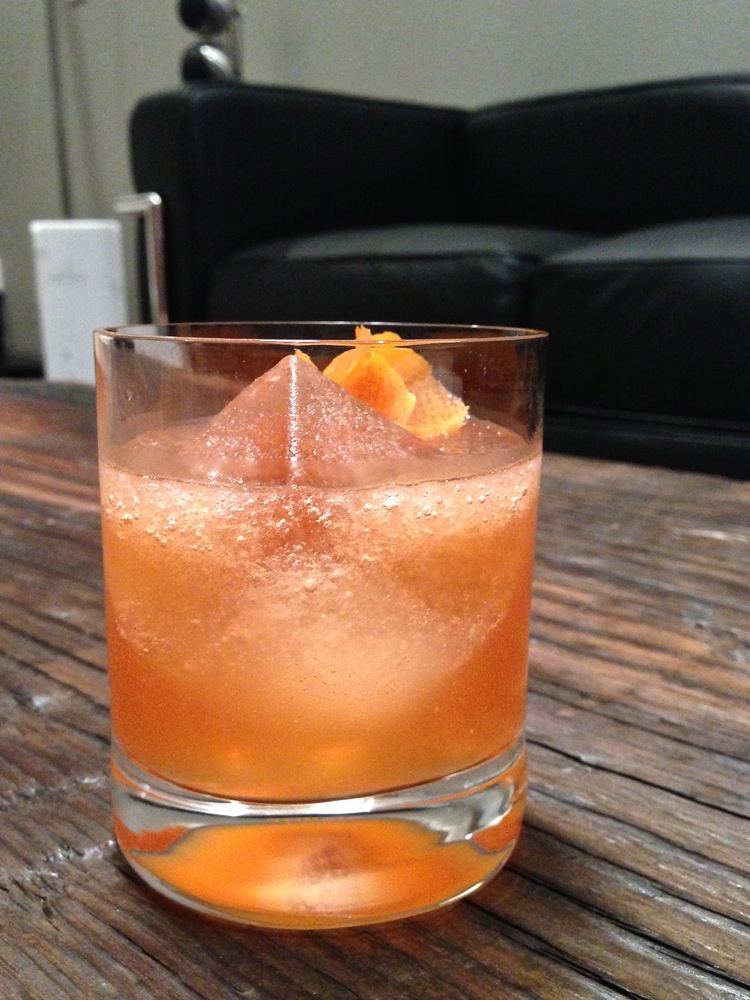 The gin should be a typical London Dry, and depending on the brand you choose you might get some variation of flavor. For the most part, however, the base spirit works its magic supporting everything else (as gin often does) and doesn't really assert itself over the other ingredients. We were out of Cocchi Americano, so we used Lillet Blanc instead. The two products are not the same, but they are close enough that either will make a good drink.
The dominant flavor comes from the interplay of Aperol and lemon. Aperol is sweet, but a full ounce of lemon juice needs a little more sugar to keep the acid under control which is why we have a bump of syrup. In this case, the original recipe specifies gomme syrup, which is a fancy simple syrup that contains gum arabic. Adding gum to your syrup is a step that is avoided by most modern bartenders, though you can find it bottled that way commercially. The gum helps stabilize the syrup allowing more sugar to stay dissolved, but more importantly, it adds viscosity that carries into the drink and gives it a silky mouth feel. We certainly appreciate this textural element but went ahead and used a 2:1 simple syrup instead.
Getting back to the Aperol and lemon, this cocktail is both refreshing and intense, though not in a boozy sort of way. Perhaps it was due to the garnish or the fact that Aperol has a fruity flavor and aroma, but our first sip reminded us of biting into a sweet and sour orange slice and getting some of the peel. It's a good balance of sugar, acid and bitterness from a combination of ingredients we'd like to explore further. No question, the Church is delicious just the way it is, but we can't help wondering what would happen if we subbed a liqueur for the syrup or Campari for the Aperol.
We have absolutely no idea why it's called the Church. Was it a coincidence that we tried it on a Sunday? Are we supposed to have one every week? Perhaps a kind reader from San Francisco will leave a comment explaining the name. Whatever the explanation, it's a good drink with simple ingredients that is also versatile, working nicely as a summer quencher, a morning reviver, or to whet your appetite for the next round.