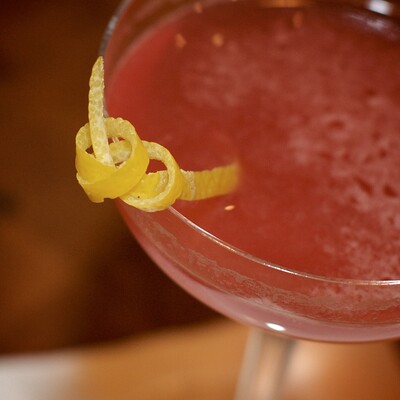 Prohibition was enacted in 1919 but didn't go into effect until January of 1920. The thirteen years that followed should have hurt the popularity of cocktails, but limited availability and the constant reminder of illegality did more to promote them! The taboo of drinking made it that much more exciting, and while the social aspect was kept out of the public eye in America—limited to secret back-room speakeasies—most of the innovation and creativity was naturally taking place outside of the United States. Our Drink of the Week is one example of such a creation.
It was a well-known fact that some people in America were simply ignoring the law. So, in 1923 a contest was held to create a word that meant, "a lawless drinker of illegally made or illegally obtained liquor." The winning entry was submitted by two people independently, and on January 16th, 1924, the Boston Herald published the results and the scofflaw was born. In less than two weeks, Harry's New York Bar in Paris came up with the Scofflaw Cocktail.
Of course, by 1933 Americans could once again enjoy their favorite beverages without legal complications, and you can too. Given that the significant dates surrounding this drink landed in the month of January, we thought it fitting to feature this as the Drink Of The Week. Here's the recipe we use to make this cocktail:
Scofflaw
1.5 oz rye whiskey
1 oz dry (French) vermouth
.75 oz lemon juice
.75 oz real pomegranate grenadine

Add all ingredients to a shaker, add lots of ice and shake thoroughly to chill. Strain into a cocktail glass and garnish with a lemon twist.
Many published recipes call for Canadian Whisky which is fine, but what a lot of people don't realize is that blended whiskies sometimes contain only a small percentage of actual full-flavored, aged distillate with the vast majority of the alcohol coming from neutral grain spirits. In other words, blends are akin to taking a small amount of real whiskey and combining it with vodka! It's smooth, or you could say devoid of whiskey-flavor-goodness! That's not to say that all blends are made this way. There are fantastic Scotch whiskies for example that are blended to bring different malts together in order to create a specific flavor profile. These days it's getting easier to find good, solid rye whiskey, but you could also use bourbon if that's what you have. We used Rittenhouse which is very reasonable and we didn't even use the strong stuff.
Any dry vermouth is fine here, but try to use a fresh bottle. Maybe you don't drink your vermouth very fast and that's ok, but you might consider keeping it in the refrigerator. It is wine-based, after all. Open a fresh bottle and you will be absolutely amazed at the difference! Besides, white vermouth is cheap. We used Noilly Prat.
We've said it before and we'll keep saying it. Use fresh citrus juice. If you are going to drink bottled lemon juice, please, go make something else. Or better yet, use that stuff to clean toilets. Lemons are easy to get and they are not expensive. There's simply no excuse not to squeeze your own lemon juice for this. It's a cocktail, right? You are treating yourself to something special here. Don't skimp on the lemons.
Finally, you should be making this cocktail with real pomegranate grenadine. You'll taste the difference. If you can't find good grenadine that's made with real juice instead of high-fructose corn syrup, you can always make your own. It's not hard, and when pomegranates are out of season there's no shame in using bottled juice for this. It's better than the alternative. We will even show you how to make it in this article.
All that remains is a twist of lemon. Cut your twist over the glass using a channel knife. It's a tool that's often part of a zester that cuts a grove into citrus peel. Try coiling it around a swizzle stick for a nice curl effect or te the end into a fisherman's knot. With your garnish in place it's time to hold up your glass and remember Prohibition, a time when you would be called a Scofflaw for what you have done. Cheers!