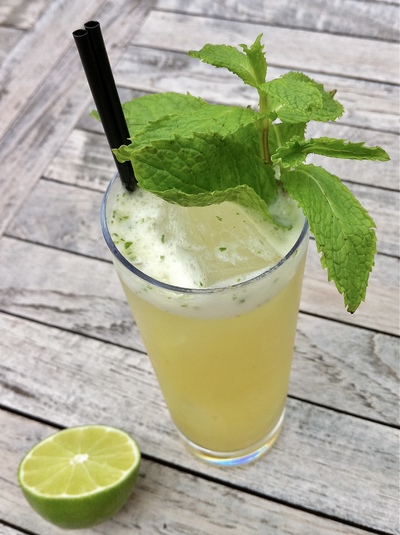 One of the ways we like to keep momentum going at Summit Sips is to post a different cocktail recipe every week. If you follow this site via RSS feeds, Twitter or Facebook, that might be why you are here now. We don't know if everyone out there appreciates it or not, but we also like to build upon the knowledge and ingredients we have described in previous posts. This is especially handy when we can refer back to something homemade. This week, we are featuring the Gin Gin Mule, a delightful cocktail for summer created by Audrey Saunders of Pegu Club in New York. Our version of the recipe is translated to make use of homemade ginger syrup. You might be surprised how easy it is to make your own fresh sodas with fruit juice and syrups, and ginger beer is a perfect example. So, if you still haven't made your own ginger syrup, we are giving you another great reason to do so.
Any cocktail enthusiast should recognize ginger and the word "mule" in this drink's name. It refers to the Moscow Mule—the California cocktail that started the mid-century vodka craze and helped vodka become the most popular spirit in the US. If the Moscow Mule is a simple combination of vodka, lime juice and ginger beer, what's in the Gin Gin Mule? Can you take a wild guess?
Gin Gin Mule by Audrey Saunders
(Summit Sips version)
2 oz gin
1 oz lime juice
1 oz ginger syrup
10 mint leaves
club soda to top

In a cocktail shaker, muddle 10 mint leaves with ginger syrup and fresh squeezed lime juice. Add the gin and shake very hard with ice cubes. Strain into a tall glass over fresh ice. Top with soda, give a stir, and garnish with sprigs of mint.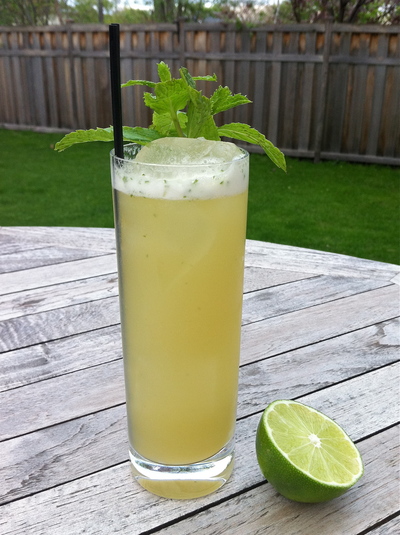 This cocktail is basically a Moscow Mule with gin instead of vodka. However, the mint adds a special touch. The botanicals in gin always work nicely with mint, and here it's definitely a better drink than you would have just swapping base spirits. We used Beefeater, but any gin would work. In fact, the more flavor in your gin probably the better. It's not like we are trying to make a smooth Martini—we want those strong botanicals here. The magic gin brings to a recipe like this is an effect you can't get with vodka. Gin helps bring out the flavor of the mint, enhances the bite of the ginger and even underscores the citrus. Try adding mint to a Moscow Mule—it's not the same thing.
Of course, the original recipe uses regular simple syrup and tops with ginger beer instead of club soda. If you haven't made ginger syrup, you can make this cocktail the regular way, but you'll want to use half as much simple syrup and a little less lime juice since citrus is often a flavor component of good strong ginger beer. As always, depending on your ingredients you should adjust proportions to suit your taste, but it's pretty hard to make a bad Gin Gin Mule. It's nice when you get the balance just right, but I like them sour, sweet, and strong!
Our mint plants are really starting to take off now, so we are looking forward to adding this cocktail to the summer house menu. If you are making a bunch of these, you could save time by skipping the muddling—provided you use plenty of ice and a good, hard shake. Most of the mint will get pulverized anyway. In either case, we don't bother with double straining. Some people don't like little bits of mint in their teeth, but if you use straws it's not really an issue. Besides, we like the look of the tiny flecks of green dotting the foam and swimming among the ice cubes.
If you are a fan of the Moscow Mule, give this one a try. You should also check out the Mamie Taylor, Sleepy Head, Dark and Stormy, Diablo and the Suffering Bastard—that's seven cocktails that can all use homemade ginger syrup. If you decide to make this drink, let us know how it turns out.