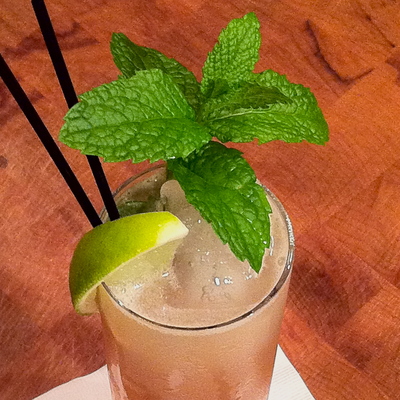 Continuing our series of scary Halloween cocktails, we have the El Diablo, our Drink of the Week. We can't get into a lot of history for this drink, because, frankly, we don't know much about it except that it was created by Trader Vic. If you know more, please post a comment or two.
What we will tell you is that it's a tequila cocktail that is surprisingly refreshing for its name, and although most recipes call for it to be made with ginger beer (and there's no reason you can't still use it), our recipe is going to make use of ginger syrup which we find far more versatile. You want the ginger to stand out, so quality is key here. Lucifer forbid, please don't use a run-of-the-mill ginger ale in your Diablo!
El Diablo
2 oz silver tequila
.75 oz lemon juice
.75 oz ginger syrup
soda water to top
1 barspoon crème de cassis float

Add all but the cassis to a shaker with ice. Shake until chilled and strain over fresh ice in a Collins glass. Top with soda water and float a bar spoon of crème de cassis. Garnish with a lime wheel and a sprig of mint.