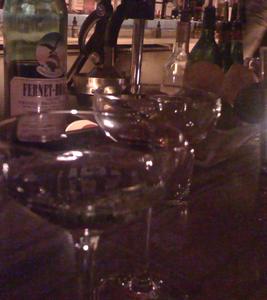 In case you haven't noticed, cocktails are improving. Slowly but surely, a wind of change is sweeping across the world. The exchange of information is happening at a record pace, and ironically, for cocktail enthusiasts that often means a return to the way things were done a century ago. Lost ingredients are being rediscovered and measured precision is replacing speed and quantity. Bars are beginning to cater to those of us with a discerning palate and even old-school bartenders are trying to figure out what this mixology craze is all about. It's one of the reasons we decided to create Summit Sips.
A few days ago we took a friend to the Bradstreet Crafthouse and our bartender asked where else we get good cocktails. It occurred to us that the best places could be counted on one hand! Now, we should stop right there and provide a little context. We are not saying there's only five places in the Twin Cities worth visiting for a drink—we are not saying that at all. There are lots of places where you can get a perfect martini, "scratch" bars that squeeze their own juice and have signature items on the drink menu, or even pubs that boast fantastic beer selections. Set all of that aside and consider the places that use house-made bitters, for example, that can transform a classic into a riff you never imagined. Or what about custom infusions and unusual syrups that you cannot buy? Maybe they make a homemade tonic water for the most amazing gin and tonic you have ever laid buds on. Do we even have to mention ice? This is about classic mixology taken to a level of confidence and perfection that makes these places stand apart form the rest—and those who work behind the stick as well as the patrons know it.
So, where can you get the best cocktails in the Twin Cities? Here's our top places as of October, 2009. As we said earlier, it's changing, and we hope some of you reading this will comment on a few of your favorites and why. These are ours:
Home
Okay, we know what you are thinking: "really? You are telling me the best drinks are at home? I thought this was going to be a list of cool bars?" We'll get to the cool bars, but let's be honest. Anything you try in a bar can be made at home. It's also cheaper, and you can make adjustments, experimenting with other ingredients that you own. Besides, you don't have to get all dressed up to go out. Of course, buying unusual bottles of booze can add up, and you will have to clean your own glassware—and do all of the work yourself—but the point is that it's totally worth it! Why not take advantage of the flexibility your home offers? There's absolutely no reason you can't make great cocktails! It can be a little daunting at first. Where do you start? We recommend starting simple. Pick a drink you enjoyed somewhere and do a little research (or send me a question about it). Then, go out and buy only what you need to make that drink. Do some tests and enjoy yourself. Once you've mastered it, move on to another recipe. This process lessens the impact to your budget while it allows you to build your inventory of ingredients. Nothing tastes better than your own achievements.
The Bradstreet Crafthouse
If you are going to have the perfect cocktail, Bradstreet is probably the best spot in the Metro to get it. Setup by Alchemy Consulting for the Graves 601 Hotel, Toby Maloney has created a sort of reincarnation of The Violet Hour, his amazing Chicago speakeasy, only this time inspired by our local history. The expert staff is highly trained in all aspects of mixology and can often help you decide what to try whether it's something on the menu or from their own experimentation. Bradstreet makes their own bitters which are applied with eyedroppers. With five kinds of ice, recipes by the drop, and a bewildering assortment of spirits and liqueurs, we have not had a bad drink at this place.
La Belle Vie
The lounge at La Belle Vie is definitely a classy place. It's sophisticated and elegant, and the award-winning restaurant has food that literally draws you in on an emotional level. This kind of place would stand out in any city, so in our city, it's definitely on my list. The drinks match the food in their exquisite detail and balance thanks to Johnny Michaels, recognized as one of the Twin Cities "Best Drink-Slingers". With riffs on old classics as well as new combinations, Johnny isn't afraid to spend several minutes building a masterpiece.
The Strip Club
No, it's not a strip club. The Strip Club Meat & Fish is a restaurant in St. Paul that overlooks the river valley from the bluffs and celebrates the cultural history that created the Twin Cities. Focusing on fresh local ingredients, the Strip Club is named for it's signature dish, the NY Strip steak. A prevailing mission of affordable indulgence is carried into everything they make, and the cocktails are no exception. The house made tonic, bitters and infusions may set them apart from the rest of St. Paul, but the exposed brick and historic ambience makes you feel right at home.
Town Talk Diner
It's not just a breakfast nook! Walk into Town Talk and be greeted with a happy yell from the back bar. It's kitschy, with brushed aluminum and a deco flair that you would not expect to hold masterful recipes and house made ingredients. But that's what you will find. I recommend the Jackson Pollock with it's drips and swirls of basil oil, or the Grassy Knoll—a cocktail with a refreshing herbal slant. The last time I was there, they were working on their own ginger ale. At Town Talk, you get great cocktails without feeling drippingly fancy. It's fun and delicious and the food is good too (duck bombs anyone?). Don't forget an Adult Malt for dessert.
Of all the places you can order a cocktail in the Twin Cities we only came up with five—well, four if you don't include your own home—that deserved to be among the best. Now, we'll admit we have not had a drink everywhere, so if there is a bar you think we need to visit or a location that deserves to be on the list, please comment below and tell us why. Do they make their own bitters? Are they infusing gin with pineapple? Once you sample what is possible from a great cocktail bar, you can make your own list, but we think these places will end up at the top. It's no wonder that sometimes staff will work shifts at several of these locations. It may take more than a good signature cocktail to compete with this list, but it makes me wonder why most places don't even try. We suppose a lot depends on the type of customer they attract or on economics, but shouldn't everyone at least be using fresh citrus? It's funny how hard we try to return to the way things were—when the cocktail was first created and some things had to be house made. It takes a century to realize that the paths to some great things have no shortcuts.