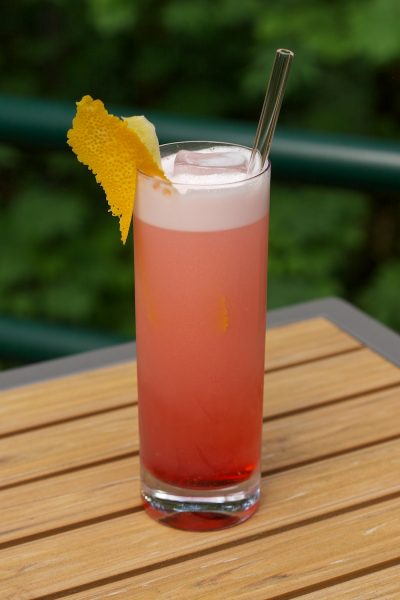 This cocktail appears on the cover of the Jan/Feb 2013 issue of Imbibe Magazine. It represents a delicious collection of ingredients and techniques that come together in a drink that looks incredible and tastes even better. We decided to feature this drink because it covers so many aspects of the craft that are worth investigating.
First, let's give credit where credit is due—this is a drink that was created by Troy Sidle for Pouring Ribbons, a New York bar and another successful Alchemy Consulting venture. The menu lists each drink with a unique double-sliding scale. One measurement reveals whether a selection is "Refreshing" or "Spiritous" while the other scale indicates "Comforting" vs. "Adventurous". We love this approach to recipes because of how it allows even the most unfamiliar list of ingredients to represent some idea of what you can expect in the glass. Although the definitions are obviously subjective, it can be a handy reference to folks just getting into uncharted territory with new spirits and liqueurs. As of this writing, One Flight Up has fallen off the current menu at Pouring Ribbons and we can't recall where exactly it landed on their scales. You might be able to guess, but if we had to decide, we'd say it's on the "Refreshing" side of the first, and on the "Adventurous" end of the second.
One Flight Up by Troy Sidle, Pouring Ribbons, NY
2 oz Pisco
.75 oz Dolin Blanc vermouth
.75 lemon juice
1 oz simple syrup (1:1)
5 drops orange flower water
1 dash Angostura bitters
1 egg white
.5 oz Campari
1 oz soda water

Place a long shard of ice in a highball glass. Add to this the Campari and soda water. Add the other ingredients to a shaker, seal and shake without ice. Add ice to the shaker and shake to chill, then strain into the highball glass to float over the Campari and soda mixture. Garnish with twists of lemon and orange peel.
Starting with the preparation of the glass, we chose a collins shape because of how nicely it holds our ice. Recalling a previous post, you can make ice shards easily with a modified silicone mold. Setting up the glass with ice is nothing new, but adding Campari and soda to the bottom is somewhat unique. We've certainly seen the occasional rinse, or a dash of this or that to a glass before the mixed drink goes in, but this setup is a little different. Admittedly, we need to work on our layering skills, but we are getting ahead of ourselves.
The base in this drink is pisco. It's a lovely spirit that works perfectly in this this recipe. We wish more drinks took advantage of this ingredient. About once per year we need to mention that recipes calling for lemon juice mean freshly squeezed lemon juice. That goes for any citrus. If you aren't using fresh lemons in cocktails you should probably be pouring a glass of wine or beer. The simple syrup is just a 1:1 ratio of sugar and water. We also have Dolin Blanc vermouth. Blanc is the sweeter French style which we used earlier in the Eeyore's Requiem. It's great stuff to have around, especially if you like just a hint of sweetness to bring out the flavor of your favorite gin martini. The whole combination of base spirit, lemon and sugar would be a good start, but the vermouth gives the sour formula more depth and excitement.
The next items add spice and floral elements to the drink. Angostura works its typical magic while orange flower water plays perhaps the most important role of all. We would have to say that you simply cannot make this cocktail without it, just as you cannot make the Ramos Gin Fizz without it. It may take some time to track down what you need, but it is worth the effort. Having some orange flower (or orange blossom) water on hand will let you make several cocktails as well as orgeat syrup and homemade grenadine. Just don't overdo it. Five drops is a lot, even for this recipe, so whenever using it, follow instructions carefully.
Last, we have the egg white which helps to add texture to the drink and builds a frothy emulsion. By dry shaking (without ice), you allow the protein to mix with the other ingredients faster, building the emulsion uninhibited by temperature. Shaking with ice after the fact will chill the drink. Strain the contents over the ice shard to carefully layer the mix on top of the Campari and soda (try to do a better job than we did). Our second attempt at this recipe will include using our bar spoon to break the downward momentum. Our photos show a little too much mixing.
The garnish includes twists of both lemon and orange peels. Take each in turn, squeezing a good amount of oils over the drink before adding them to the glass. Sipping through a straw, you will end up taking in the bitter Campari first, followed by the refreshingly floral ingredients above. This may be by design. Otherwise, sipping from the glass would lead you through transforming flavors with a Campari finish. Either way, this drink changes as you drink it. We suggest moving the straw up and down as you sip to taste the different layers as you wish.