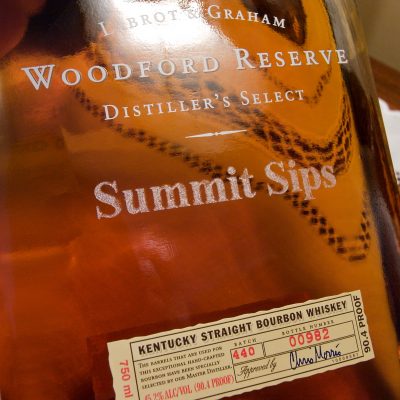 Although the basic steps in the distillation process are common, one theme that finally became obvious about Kentucky is the serendipity of converging resources. First and foremost is the land itself. Limestone is everywhere, but in Kentucky, it's just under the topsoil. In addition, the rock here is free from iron, making it the perfect filter for natural spring water. The fact that it's so close to the surface makes this water relatively easy to use. From a legal perspective, bourbon can be made anywhere in the U.S., but economically, it makes more sense to bring other ingredients to the water source. Second, Kentucky enjoys fertile soil which, in addition to supporting the native bluegrass, also plays an important role supporting local agriculture—and as we know, making bourbon requires lots of grain, including corn, wheat, rye and barley. Kentucky also has the greatest length of navigable waterways in the lower 48 states. This has facilitated centuries of convenient distribution.
In Kentucky, the alignment of these factors supports 95% of the world's bourbon distillation, and all of them are making the same basic product. However, individual details can have a dramatic effect on the outcome. Case in point is Woodford Reserve, the smallest Kentucky distillery and the only one using copper stills. Their triple distillation in huge copper still pots reminiscent of those used in Scotland produces a distinct bourbon flavor and a brand that at the time of this writing is the official bourbon of the Kentucky Derby.
Like other distilleries, the process starts with the grain. Woodford Reserve uses a hammer mill to pulverize corn, rye and malted barley before it enters the cookers. Maker's Mark, on the other hand, uses a roller mill which they claim works to their advantage by not creating as much heat and friction. Does it really matter? It's hard to say. Buffalo Trace uses a hammer mill too, but this step isn't the only factor that can affect the final product. The exact proportions of grain probably make the biggest difference, but how they are milled may not matter at all. I like to believe that everything has at least some affect on the outcome, and these small details probably do contribute in some way to the unique flavor of each product.
Woodford Reserve uses cypress fermentation vats that are very similar in size to those used at Maker's Mark. These are barely a decade old, whereas Maker's Mark's fermenters have been around for over a century. They are certainly not as deep as the vats used at Buffalo Trace, so we don't expect they can remove as much of the fatty acids, but the fermenters were empty, so we did not get to see any work in progress.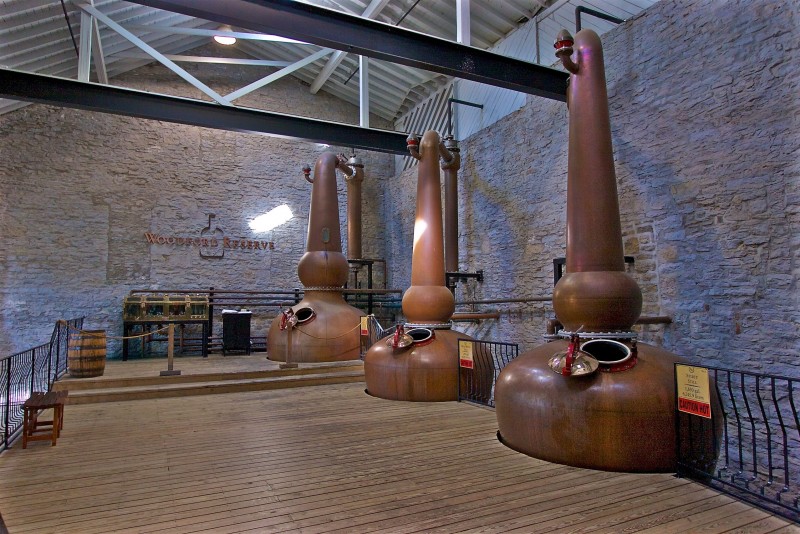 Like several other distilleries, the buildings at Woodford Reserve are over a century old, but the one that really sets Woodford apart from all of the others is their still house. Built in 1883, this building is home to the only copper pot stills making whiskey in Kentucky. The still house is like a beautiful showcase for this wonderful equipment. Built half way around the world in Rothes, Scotland, the three copper pot goosenecks have taken on a wonderful patina and do not look like new equipment. Distilling in copper pots is often associated with the production of Scotch whisky, and here it is a three step process. First, the fermented mash—or beer—enters still #1 where it is steamed to release the alcohol. This is condensed and collected at the top of the gooseneck where it is routed to still #2 for a second round. The result is a 110-proof "high wine" which goes through a third and final round of distillation resulting in a 158-proof distillate. Amazingly, these stills won't last very long. In fact, our guide explained that they will need to be replaced in the not too distant future. We found this interesting, considering the effect such a change would likely have on the product. You sometimes hear stories of Scotch producers taking the utmost care protecting their copper still pots, going so far as to reproducing each original dent should a repair be necessary. It will be interesting to see how Woodford Reserve decides to handle swapping their stills when the time comes.
Below the mezzanine, barrels are filled. Woodford Reserve sources it's barrels from Bluegrass Cooperage in Louisville which undergo a 22-minute toast in order to bring the sugars in the wood to the surface before being set ablaze for 20 seconds to create the char. Once filled, the barrels are rolled outside and onto rails where gravity takes them right to the warehouses for storage. Although no barrels were moving during our tour, we imagined hopping over them like Mario in Donkey Kong. Sadly, the only activity the distillery seems to have at the moment is visiting tourists. Our guide told us that no product had been produced since December of last year.
Like the other tours, we walked among the aging barrels in the stone warehouses. Our guide said that the barrels surrounding us in just a single warehouse represented $40 million of product. That's a lot of bourbon! The thick stone walls insulate the barrels in a climate-controlled environment. This allows the distillery to heat and cool as needed and to create artificial seasons causing the expansion of whiskey in and out of wood for a faster, more productive aging process.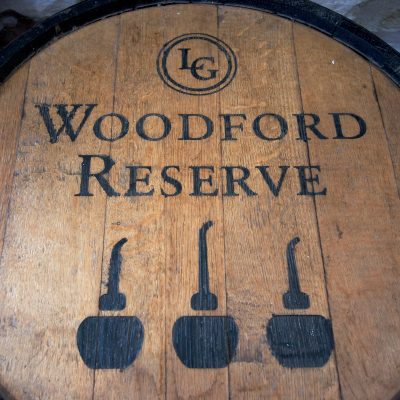 Despite the gorgeous historic landscape and impressive facility, we were somewhat disappointed compared to tours we enjoyed at other distilleries. It was hard to be inspired during such a quiet time of their production cycle. Clearly, inventory has exceeded demand, or perhaps they have filled all of their warehouse space. Whatever the case may be, we felt a little let down. It was like visiting a manufacturer on a Sunday afternoon when all of the machines are shut off. We saw no fermenting mash, no White Dog pouring out of stills, no hustle and bustle in the bottling house—and we paid a $5 fee for the privilege. Now, make no mistake, Woodford Reserve makes fantastic bourbon—in fact, it's a requirement in our favorite Manhattan recipe. We were even able to have a special bottle engraved. But despite a very nice gift shop and a tasting room that features photos and artifacts from the site's history, we had hoped to see active production like that of at other locations. Instead, this visit was more about seeing a quiet, picturesque distillery set among the hills and trees of the beautiful Kentucky countryside. We know, it sounds really great when we put it that way, and it's all true, so maybe we should have simply visited Woodford Reserve first. We are glad we got to see the unusual copper stills and learn just a little bit more about bourbon production, and we'll always be a fans of the stuff that comes out of this place!