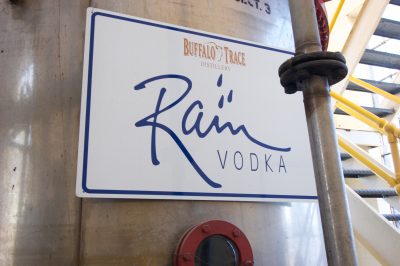 We thought we would post a final wrap up regarding our recent trip to Kentucky. Everyone out there has been clicking "refresh" waiting for the next posts, so we figured a nice conclusion was probably in order. We also wanted to say a few words about another product we brought back home with us from the Buffalo Trace Distillery.
It's one thing to take a long weekend and go for a drive. It's something else to set a destination that is 4 states away and takes a full 24 hours to get there and back. Yet, despite the long time spent behind the wheel, Louisville is definitely within reach by car from the Twin Cities. The area has a lot more to offer visitors than we had time to see, but we focused on the Bourbon Trail®. This was also an excuse to see the countryside, visit antique shops and stay at charming B&Bs. The bourbon was truly a bonus.
Another bonus was the discovery of Rain vodka. Rain has been around since 1997, and you don't have to go to Kentucky to buy it. You may have seen it on the shelf, but have you ever bothered to try it? In recent years Rain has been able to officially claim that it is made from 100% certified organic ingredients. You've probably heard of vodkas made from grain or potatoes—Rain is made from corn. Although technically, vodka can be made from anything, it's supposed to be a clear, tasteless and odorless distillate. However, most vodka lovers will argue that vodka does indeed have some detectable flavor. We normally like to drink Ketel One because it has an edgy taste that works nicely with a lemon twist, but when we tasted Rain it was a revelation. This is a vodka that can be sipped—and enjoyed—neat. It has a buttery nose and it's exceptionally smooth. Distilled seven times at the Buffalo Trace Distillery, Rain can sneak up on you and become your favorite vodka. Sure, it's been available for years, but you don't hear a lot of people talking about it. If you are a vodka lover, give this recipe a try:
Smooth Martini
2.75 oz Rain Organics Vodka
.25 oz Lillet Blanc

Add the vodka and Lillet to a shaker, fill with ice and shake (or stir) until fully chilled. Strain into a chilled cocktail glass and garnish with a lemon twist.
The buttery smoothness of the vodka is still detectable in this cocktail. We used Lillet in lieu of a dry vermouth here for just a hint of sweetness while still allowing the vodka to take center stage. Cut your lemon twist over the drink to collect the oils from the peel. The lemon layers nicely with the vodka. Sip slowly—it's very easy to take big gulps!
In addition to the booze tours, we really enjoyed antiquing on our road trip. On the way down to Louisville we kept our stops to a minimum to improve our drive time, but while in Kentucky, we made an effort to stop at every antique store and dealer mall that we could find. It paid off and we were able to bring home a few treasures including some vintage mint julep cups and some unique artwork. It was a good trip all around and we are glad we did it.
Click here to see all of the Kentucky bourbon posts on one page.
Kentucky Bourbon Trail® is a registered trademark of the Kentucky Distillers' Association.