Last year, we put together a comprehensive list of important gift items for the Mixologist. It's still a good list, but this year, we decided to take a slightly different approach. Rather than list the basic necessities and repeat everything, we decided to write more detail about items we wish we had found sooner as well describe some of the coolest stuff on our wish list. Some of these items do fill the basic needs, but most of them are favorites. With so many similar tools out there, it can be hard to decide what to buy without first having a chance to use them. Let my experience guide you.
Shaker Tins
The most important item for making cocktails besides the ingredients is the shaker. We normally recommend a Boston shaker which is a glass and tin combo, but we upgraded to an all-metal shaker a while ago. We're not talking about a three-piece cobbler (the ones with the cup, strainer/cover and a cap). For some reason, cobblers seem to be in every bar kit you find, especially at department stores, but trust us, your mixologist doesn't want one. They are often hard to open, they leak, the built-in strainer either clogs or lets ice chips through, and they cannot match the speed and versatitliy of a Boston. Going all metal means replacing the glass half of a Boston shaker with another smaller tin.
A shaker made from two metal tins has a low thermal capacity. They conduct temperature much faster with less warming—important when you are trying to chill the contents. They should fit together with little effort and create a solid friction seal. The smaller tin should sit high inside the larger one giving the ice a longer travel. That means more aeration and efficiency per shake. Watch the experts at better bars and you will see that all the cool kids are using metal tins like this. But like a Boston shaker, success relies on getting that airtight seal. You could just buy a 26 ounce tin and pair it with a 16-18 ouncer. We've done it. It works, but the seal can be hit or miss. It's no secret that some of the best bar tools are made in Japan, and this is true for shaker tins. The ones you want are called Naranja. [UPDATE: The model they now carry is called Koriko, but they are they same thing.] They come in two sizes (you need one of each) and they can be weighted or non-weighted. We prefer the weighted tins. They feel better in the hand and seem more durable. Naranja tins are also slightly thicker than others We have tried, and they seal perfectly. They lock together with only the lightest pressure and stay that way until you snap them apart. If you have ever shaken a sour with egg white, you know how important a good seal can be. You could buy directly from the Japanese company online, but we feel very comfortable skipping the translation challenges and getting them from CocktailKingdom.com.
Perfect Mixing Glass
It's ironic after switching to metal tins that you would still want a mixing glass. After all, isn't that what was just replaced with metal above? It's true that we don't need the glass for shaking, but some cocktails are better when stirred. We are talking about any drink that is all spirits (no juice) that can retain its gem-like clarity. For these occasions, you need a glass. Ice swirls around much smoother than when stirring in metal, and it's important to be able to see your ice melt to help you gauge dilution. Any 16 ounce beer glass will work, but here again, the Japanese have a much better solution. The Yarai glass is a thick-walled mixing glass with an integrated pour spout. The heavy design stays put on your work surface and has a carved cross-hatch pattern similar to fine crystal which looks great and provides better grip when pouring. Again, head over to CocktailKingdom.com.
Strainers
Your mixologist needs two strainers—a Julep Strainer and a Hawthorne. The julep is like a big oval spoon with holes that sits into the mixing glass. All of the julep strainers we have seen work equally well, so any will do. [UPDATE: The Premium Julep Strainers at Cocktail Kingdom are thicker than others, available in a variety of finishes, and they fit better in the Yarai mixing glass.] We have tried quite a few Hawthorne strainers (the ones with the spring) and our favorite is the OXO Steel Cocktail Strainer. Chances are, if your mixologist is making cocktails, they already have a Hawthorne, but the julep strainer is often overlooked. Steer them into the light and explain why they need to stir some cocktails! Besides, having an extra strainer around is always handy, especially if theirs is flimsy with a spring that is less than ideal. The OXO stainless steel is thick and sturdy, the spring is tight with more loops than most, and the handle is short.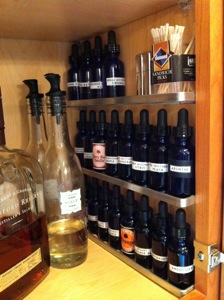 Bottles
If your mixologist seems to be starting a collection of cocktail bitters that are cluttering the bar or filling up the cabinets, pick up a dozen one-ounce dropper bottles and store the original bottles somewhere else. We transfer all of our bitters into these. They take less room in the cabinet and allow us to dose bitters more precisely when a recipe calls for that. You can make labels with those electronic labelers or just print them on adhesive envelope labels. Or, do what we do and print them on paper and just tape them around the bottles. We put everything in these, like orange flower water, bitters, and absinthe. We like cobalt blue glass, but the amber is good too. Bittercube Bitters actually sells their bitters in these bottles already. Check out Specialty Bottle.
Education
Nothing improves your knowledge of cocktails more than a little formal training. We are not recommending bartending school but rather a certification course called BarSmarts™. Taught by some of the most respected cocktail experts and historians in the field, BarSmarts™ is a terrific way to quickly learn the fascinating history and details about distillation, how to taste spirits, how to balance flavors and of course, how to make popular classic cocktails. The best part is that it can be done online with written materials available through their website and online videos to guide you. Once registered, you'll receive a tote bag filled with all of the basic essentials including a bar knife, bar spoon, a Boston shaker, strainers, a muddler, jiggers—this course has it all. While you could take the live class if they happen to visit your city, open enrollment for the "Wired" online version happens only at specific times of the year. Sign up with your email address and they will notifiy you when open enrollment begins.
Glass Straws
Bars go through plastic straws in painfully large numbers. While it's nice to offer cocktails to guests with all of the appropriate trimmings, why not consider reducing the plastic you send into landfills and get some reusable straws? That's the idea anyway behind Strawesome.com, and we think they are onto something. Each glass straw is a piece of art. Whether you like the simple lines of a straw that is straight and clear or you prefer something with a little more color and decorative whimsy, Strawsome.com has something for everyone—and every drink! We'd love to get a few short straws to pair with silver Julep cups and maybe some longer ones for taller Collins-style cocktails. With various lengths and diameters covered, you should be able to find one you like and feel good about the contribution you are making to the environment. A set of these could be the most unique item on this list. The only thing about glass straws is that they are in no way flexible, unlike odd foldable metal straws we have seen which can be positioned like a traditional bendy straw.
Ice Spheres
With unlimited funds, the item that would top our list (besides a Kold-Draft ice machine) might be the Taisin spherical ice molds. These molds compress solid blocks of ice under their own weight and temperature to melt chunks into perfect spheres in less than a minute. However, getting the model that is big enough to make spheres of a usable size (2.5 to 3 inches in diameter) is an expensive proposition. Fortunately, you can still make spheres the old fashioned way with silicone molds from Muji.com.
A Few Other Ideas
Crushed ice is a necessity in many cocktails. One easy way to get it is to use a Lewis bag. The bag wicks away moisture as you pound the ice to bits. Another idea that always works is a good cocktail book. Every mixologist should have their own copy of Jerry Thomas's Bartenders Guide. We also recommend Ted "Doctor Cocktail" Haigh's Vintage Spirits and Forgotten Cocktails, and Jeff Berry's Beach Bum Berry Remixed. Why not a subscription to Imbibe! Magazine for that matter? Finally, let's not forget booze. A cocktail enthusiast is always going to need a bottle of gin, or some Cointreau, or some good whiskey. You can't go wrong with cabinet stuffers.