If you are paying attention to what is going on in the world around us right now, you are hopefully exercising your best attempt at social distancing. Avoiding close or direct contact with other human beings leaves most of us sequestered in our homes. It is definitely for the best, especially since it just snowed where we are in Portland, Oregon. And while we may be stuck in the Pacific Northwest, we'd rather be taking in a warm sunset, or wandering the streets of old town, Puerto Vallarta.
A nice libation can help when dreaming of Jalisco, so we decided to mix up this simple cocktail from 2015 to help inspire us as we look ahead to when current challenges with the COVID-19 corona virus blow over. You might already have these ingredients, but they are easy to source if you don't.
Jalisco Stroll
by Eric Gigers, Noble Experiment, San Diego

1 oz blanco tequila
1 oz dry vermouth
1 oz Campari
4 drops salt solution

Stir with ice to chill, then strain over a large chunk of ice in a rocks glass. Garnish with a twist of lemon peel.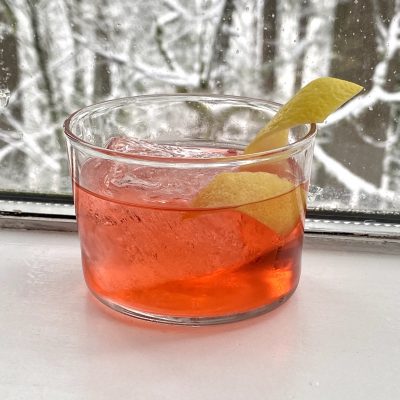 You can mix up a saturated salt solution in no time by combining one part kosher salt with four parts water. We added a half tablespoon to an ounce of water and shook it inside a little bottle. The salt may not completely dissolve in the water, and that's OK. After a lot of stirring or shaking, you will still have a saturated solution. Adding only four drops to the drink doesn't seem like much, but it is the perfect amount! You won't use much for this cocktail, but there are more uses for salt in other drinks, so it can be handy to put the leftovers into a dropper bottle.
Think of this drink as a tequila Negroni. The convenient 1-to-1-to-1 ratio is easy to remember. Besides tinting this drink a lovely shade of pink, you might think Campari's bitterness would overwhelm the lighter ingredients—but that is where the salt comes in. The salt solution robs Campari of its bitterness leaving the fruity flavors to mingle with the herbal dry vermouth. Your choice of tequila probably affects the flavor profile too, but we found that the lemon twist works wonders to bring everything together. Give the twist a good squeeze over the drink and rub the peel around the rim of the glass before dropping it in.