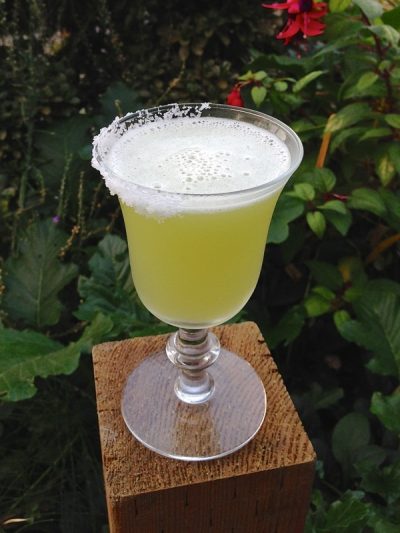 Depending on what part of the world you are in, you may or may not be feeling the onset of autumn. In Portland, Oregon there's rain in the weekend forecast ending what has been the longest dry summer on record. To put it plainly, it has been an amazing fall in the Pacific Northwest, so it seems only right to feature a Drink of the Week to emphasize one final day of sun before the long, dark winter. We first discovered Grounded for Life a year ago. It is a cocktail created by Beaker & Flask's Kevin Ludwig, and it's one that he calls a "nice, summery, refreshing drink," but we think it's just the ticket to close the season.
We are big fans of Beaker & Flask as well as Rum Club around back. Last year, we featured Kevin's Norwegian Negroni as well as Emily Baker's Mexican Circus Tiger. Those are both fantastic drinks, but Grounded for Life has something we've never seen in a drink before—celery juice. It's an odd ingredient that's so tasty and so simple to make it's a wonder we don't see it being used more often. Think about a fresh stalk of celery for a moment and you will recognize that aside from a lot of fibrous roughage, it's mostly water.
Grounded for Life by Kevin Ludwig
2 oz Mazama (Crater Lake) Pepper Vodka
.75 oz triple sec
.75 oz simple syrup
1 oz lime juice
1 oz celery juice

Shake over ice and strain into a glass with a salted rim.
Naturally, there's a little prep work necessary to make this cocktail. It starts with fresh celery. Amazingly, you don't need much of it to extract a good volume of juice. There are several ways to go about that. You can chop it up and muddle it in a glass, then strain the juice. This works for small amounts, but you can also use a blender. Take several large ribs of celery and break them into smaller pieces. Toss them into a blender and pulse until they start to break down. Blend to a thick consistency to sufficiently rip them apart so they completely release the juice, then press the pulp through a sieve or cheese cloth. We blended three large pieces of celery which yielded six ounces.
Once you have the celery juice you need to track down some pepper flavored vodka. The official recipe calls for Mount Mazama from Bendistillery, but that's the old name. It's now called Crater Lake Pepper Vodka which is an infusion of six different hot and sweet peppers. According to Ludwig, you can really smell the bell pepper in this drink, so the vodka you use is important if you want to make a perfect version. However, we muddled some chopped green pepper and jalapeño in a few ounces of regular vodka allowing it to infuse for a couple of hours. It's not a perfect solution, and if we did it again we would use more jalapeño or let it go longer, but it can work in a pinch. The key was to get both the burn and the bell pepper into the base spirit. You might also be able to substitute another brand of pepper vodka, but recognize that success depends on more than just spicy heat.
Bring it all together in a salt-rimmed glass. We normally like to give guests a choice with the salt by only rimming halfway around, but the salt really makes a difference. It helps bring out the flavor of the celery and pepper, and it works surprisingly well with lime and Cointreau. There's plenty of debate about salt and margaritas, but here, we think it's a necessity.
On paper it may look like a recipe that works like morning drinks such as the Bloody Mary, but in truth, it's closer in flavor to a Margarita or a Red Pepper Daisy. Categories aside, it's a wonderful drink, and the celery juice makes it an unexpected pleasure. It's definitely on the sweet and sour end of the spectrum, not savory. Give Grounded for Life a try and let us know what you think. Our version pictured above looks great in a Georgian-styled goblet from the Summit Sips store.