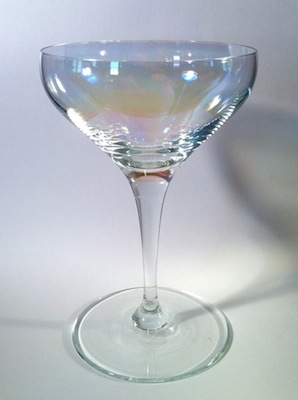 This weekend turned out to be a good one for glassware. As many of you know, we are big fans of recycling vintage glasses to showcase great cocktails. That usually means that I am on the hunt for coupes, the bowl-shaped champagne goblets from days gone by. But we try not to limit to just one style.
It was pretty exciting when we spotted a bunch of iridized coupes in perfect condition. These are actually a match to a pair already available in the Summit Sips Store and they are probably my favorite cocktail glasses. We have used them in numerous photographs here. They are slightly larger than what we typically look for, but they are not so big that they overwhelm classic recipes. It felt great to bump up the inventory for this particular stem to a total of seven. If you have been looking for a nice set for your own mixology adventures, we cannot recommend these enough. They feel strong and substantial even though the bowl is thin at the edge, and the elegant line from foot to rim has a slightly inward drawn lip. The iridized finish is just icing on the cake!
Another fabulous find was the group of eight identical 6 oz knobbed stem coupes. These have a wide rim on a bowl that is almost spherical (well, semi spherical anyway). They are the perfect size for the recipes we feature here so you won't have to worry about leaving some of your pour in the shaker like you would with glasses too small. On the other hand, far too many new cocktail glasses sold today are way too big, so here again, you are better off with vintage offerings. Finally, it's not always easy to find a matching set of eight.
In addition finding yet another matching set of five with a nice inward curving rim, we happened upon a footed mixing glass! This is the first time we have found one of these. It is tall, holds 30 ounces, but that's not really the point. The idea behind a stemmed mixing glass is that while you stir your Manhattan (or whatever you like to stir), you can place your hot little hands on the foot and the heat won't transfer to the glass. Footed mixing glasses are sometimes used in Japan and imported examples cost quite a lot of money. It also comes with a solid glass stirring rod, but a long fancy bar spoon works too.
You can find each of these items in the Summit Sips Vintage store. Keep in mind that they are old a and presumed used. That means they may have minor signs of use, but we won't sell anything that is broken. Some glasses show signs of wear, but this is to be expected with items like this and adds to the vintage charm. As always, we are happy to answer questions about any of the items in the store.