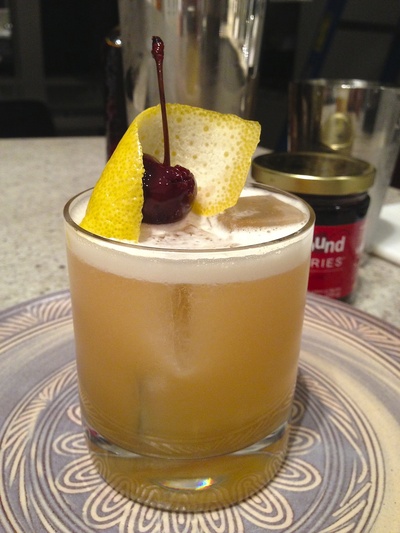 We are sometimes asked: Where do you find content? What inspires you to write about one particular topic or another? How do you come up with recpies to post? While completely original ideas do come along, it's far more common (and often more interesting) to find inspiration among existing sources. We certainly didn't invent the recipe for falernum, nor did we make the first homemade tonic or cola. Even barrel-aged cocktails are documented at least as far back as the first published cocktail book. Acknowledging previous accomplishments is one thing, but confirmation is so much more rewarding. Drink books both old and new are good places to start. The online cocktail community is also very collaborative. But nothing quite compares to sitting opposite a professional and watching a master at work. If you don't happen to live in a city that supports a world-class craft cocktail scene, your face-to-face options may be limited. When Jeffrey Morgenthaler of Portland, Oregon's Clyde Common announced last year that he had created the best Amaretto Sour in the world, we had to investigate.
You've probably heard of the Amaretto Sour, but that doesn't make it a classic. The typical recipe is somewhat of a joke among cocktail geeks. You make one by simply adding some measure of amaretto to a glass of ice and fill the rest with sour mix. It doesn't even have a base spirit! It should go without saying that any cocktail that originates as a recipe that calls for sour mix cannot (and should not) be called a classic, and it certainly isn't a craft cocktail–not in this form anyway. But could it be? Is it possible to fix this broken drink and make it fantastic?
Were it invented today or even a century ago, the sour mix would be replaced by fresh lemon juice and simple syrup. The balance of sweet, sour and strong would be carefully respected. Influences from the pre-prohibition golden age of mixology might seep into such a recipe with additions such as egg whites, often used in classic sours to create a protein emulsion that gives the drink a silky smooth mouth-feel. Before we get too far ahead of ourselves, this is exactly what Mr. Morgenthaler has done.
Amaretto Sour by Jeffrey Morgenthaler
1.5 oz amaretto
.75 oz cask strength bourbon
1 oz lemon juice
1 tsp rich, 2:1 simple syrup
.5 oz egg white

Add the ingredients to a cocktail shaker. Seal and shake without ice to build the protein emulsion. Add ice and shake again to chill. Strain into a rocks glass over fresh ice and garnish with lemon peel and a cherry.
According to Morgenthaler, this revitalized version requires a cask strength bourbon to bolster the flavor of the liqueur and add the appropriate strength to the drink. He uses Booker's, but you can get away with others. A touch of rich simple syrup helps balance the full ounce of lemon juice and a small portion of egg white builds the texture this cocktail deserves.
We are big fans of sours, especially frothy whiskey variations, so we were hoping this would hit the mark. Before we ran out to pickup a bottle of amaretto, we made our way to Clyde and let the master show us how it's done. What landed on the coaster was no longer the drink you serve to someone who doesn't like the taste of alcohol. It was bold, balanced and delicious. That settled it and we picked up a bottle of amaretto the next day. Now that we have had the chance to make it at home, you may be wondering: is it really the best Amaretto Sour in the world? It's damn good, so yeah, we think it probably is.