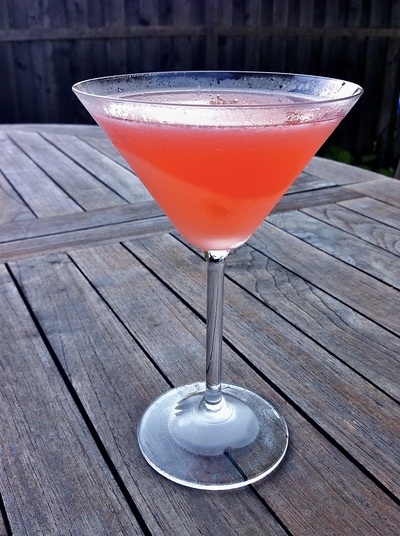 If you've ever had the pleasure to enjoy the culinary mastery of Chef Lenny Russo at the Heartland Restaurant in St. Paul, you might have also enjoyed an inspired beverage from their cocktail menu. It's great to see that a kitchen capable of churning out an ever-changing array of local, seasonal masterpieces doesn't completely overshadow its small but interesting list of mixed drinks. With names like the Jerry Thomas, Cardinal Kiss, and the Violet Beauregarde, there's plenty to keep your interest. We also appreciate the fact that they feature a classic Negroni, an Amaro Manhattan and a collection of ingredients that combine unusual liqueurs, bitters, and distilled spirits from the local region.
But, the cocktail that seems to evoke the most curiosity may also be the simplest. The Rural Juror isn't exactly a tongue-twister, but it's impossible to order one with a straight face. A cocktail's name can mean just about anything, but it's hard not to think someone behind the bar here is a fan of NBC's 30 Rock. It is the title of the tenth episode and a reference to the name of a film in which one of the cast members played a starring role. Of course, everyone else on the show has trouble pronouncing it which becomes a running joke throughout the series. It's not a real film outside of the 30 Rock storyline, but the cocktail is definitely the real deal, and here's our attempt to make it:
Rural Juror
2 oz gin
1 oz lemon juice
.75 oz apricot liqueur
.25+ oz Peychaud's bitters

Add the contents to a shaker with ice, shake to chill, then strain into a chilled cocktail glass.
With the half-sheet cocktail menu organized by spirit, the Rural Juror falls into the Gin category alongside a Gimlet that uses house made lime cordial and a Negroni. It is basically a lemon riff on the Pendennis Club. The first time we saw this cocktail we couldn't explain the color. The menu said nothing about Peychaud's bitters, but when we asked about the deep pink hue, we got the humorous explanation, "We add enough Peychaud's bitters to make it look like a Cosmopolitan." It can be served a pale pink to almost red. If you watch the Heartland bartender make this drink you will see lemons squeezed directly into the shaker glass and bitters added by hue. There's some wiggle room with the exact proportions, but we like it using the measurements above.
Heartland uses North Shore #6 gin out of Chicago. It's a smooth gin with floral (lavender) aromatics and citrus. The lavender definitely plays a role in this cocktail, but so would the botanicals of almost all dry gins. North Shore is a small artisan distillery and bottles are worth the effort to track down, but you can still make a fantastic version of this drink with any flavorful gin. The apricot is fairly easy to locate. Rothman & Winter Orchard Apricot Liqueur is produced by combining Austrian apricot juice with eau-de-vie from the same fruit yielding a flavorful liqueur that isn't cloyingly sweet (could work wonders in a Kir Royale). It's often referred to as apricot brandy, but that's not really what it is. Of course, fresh lemon juice is a given.
The flavor is definitely on the sour end of the spectrum and we really like that. There's more lemon juice than apricot, but the liqueur comes through. The surprise is the bitters. Just when you thought your bottle of Peychaud's wasn't getting used very often, along comes a cocktail that seems to work well with a quarter ounce. Make a few of these and it won't last long. We tried using half that amount and something was seriously missing. Aside from creating the "Cosmopolitan" pink, the bitters is a full-on ingredient here that doesn't seem to overpower. What starts out as sweet and fruity finishes somewhat dry as the lemon lingers with each sip. This cocktail is probably a good candidate for gin experimentation. Hendrick's for example, might take it in an interesting direction as would Bols Genever. Whatever you decide to make as your sequel, it should be called the Urban Fervor.