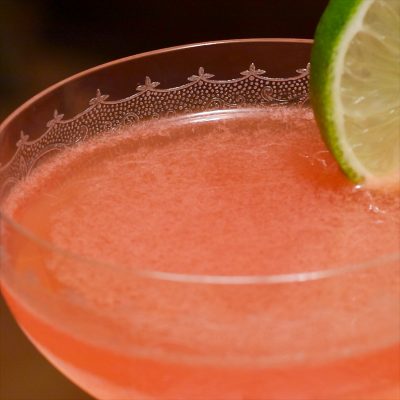 Here's a simple little cocktail that takes a bunch of ingredients we've described before and combines them into an unexpected party of flavors. Pooling dry gin with lime, liqueur and bitters isn't new. We have seen this formula before with the Pegu Club cocktail, but the Pendennis is different. It's—dare we say it—better? more interesting. To be fair, we can't count how many times we've said that one recipe or another was our favorite. Ask us our favorite cocktail and we will probably ask you what base spirit you had in mind. So let's give credit where credit is due and call this a Pegu Club variant, but one you really must try.
And like the Pegu Club which was named for the historic English gentleman's club in Burma, this one references a similar establishment located in Louisville, Kentucky. The Pendennis was established in 1881 and is often cited as the birthplace of the Old Fashioned cocktail. It's a social club with a long history that is still going strong today. The current clubhouse opened in 1928 boasting hand-crafted architectural details designed to reproduce elements of famous rooms throughout the world. From the black and white Belgian marble entrance to the walnut-clad library and the well-known third floor Georgian ballroom with it's oak floor and crystal chandeliers, the Pendennis is a remarkable structure and one of the finest examples historic architecture in the country. At over 58,000 finished square feet, there is plenty of room for billiards, bars, and a barber shop. Athletic facilities, dining and numerous other rooms show off huge murals, block-printed wallpaper and countless luxurious details throughout. Today, the Pendennis is host to a popular Post-Kentucky Derby party visited by celebrities as well as the Louisville social crowd.
Pendennis Club
1.5 oz gin
.5 oz lime juice
.33 oz apricot brandy
1 bar spoon Peychaud's bitters
.5 bar spoon simple syrup

Shake all ingredients with ice and fine strain into a chilled cocktail glass. Garnish with a lime wheel or wedge.
Any time a recipe calls for apricot brandy there is the possibility for misunderstanding. Depending on your interpretation, this product can be two different things. Apricot brandy can refer to a sweet apricot liqueur (brandy-based or not) or it can mean a dry apricot eau de vie. The eau de vie would be a true brandy—an apricot-wine distillate. Think of sweet apricot juice or pulp (with the stones) completely fermented until dry to make a wine which is then distilled to create an intense, apricot-flavored spirit that contains no sugar. Such a product wouldn't be able to balance the lime juice in this drink which might explain why we see a half bar spoon of simple syrup. However, that's not really enough sugar. You could add more if we were talking apricot eau de vie, but with apricot liqueur we will have enough sweet to quell the sour lime. As always, you should adjust the balance to taste, but we can safely assume we're dealing with the liqueur. We used Rothman & Winter's Orchard Apricot, for better or worse, and the drink was delicious.
Apricot aside, another major difference that sets this recipe apart from the Pegu Club is the full bar spoon of Peychaud's bitters instead of Angostura. Adding this much of it makes the bitters a prominent flavor similar to how we used bitters the Rural Juror. In fact, this cocktail is very similar to the Rural Juror except it uses lime juice in place of lemon. Peychaud's floral and anise intensity wrestles for the spotlight. Lime and gin aren't likely to give up their starring roles, but we also have that apricot to think about. That's the beauty of this cocktail. Between the fruity apricot's subtle almond-like underpinnings and all of the other botanical elements, we have a deceptively complex drink that can be made without too much trouble at all. What's more, it goes down pretty easy too.