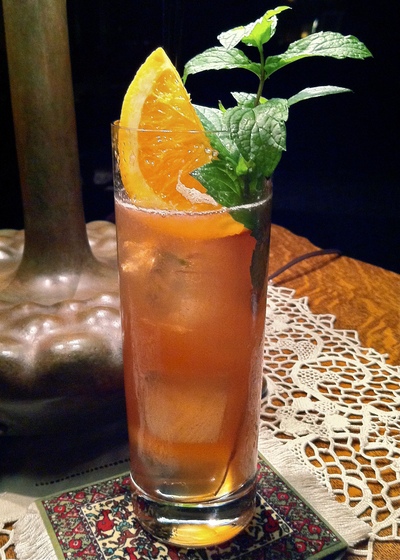 A few weeks ago we featured the Blood and Sand cocktail after finally tracking down some Cherry Heering. We wondered if perhaps there were readers looking for additional ways to use cherry brandy, so we decided to feature the Singapore Sling. If you haven't tried the drink itself, you have probably heard the catchy name. But like a lot of old cocktails, the recipe has an unclear history and most people make it wrong.
It can be a delicious cocktail, depending on the recipe you use. That said, it's just as easy to make one taste awful. Part of the problem is that the original recipe, popular as the drink was, became lost to history causing many enthusiasts to experiment with ingredients over the years. It's certainly considered a classic, dating back to the early twentieth century when it was created at the Raffles Hotel Singapore, but it disappeared around 1930. The official "restored" version was supposedly discovered on an old bar napkin and pieced together based on bartender memory, but not everyone agrees that it is the proper recipe. Another drink called the Straits Sling is a close match, and more than a few cocktail historians think this might actually be the real deal. Whatever you want to believe, one thing is absolutely clear—right or wrong, there's more than one way to make a Singapore Sling.
And that's another problem with this cocktail. It's just never the same drink in two different locations. Finding a favorite version would be a lot easier if there weren't so many ingredients to assemble. Now, we're not saying you should ignore any cocktail that has more than a few ingredients, but if you are in a hurry, it's probably not going to be your first choice. The traditional recipe is a combination of gin, Dom Benedictine, Cherry Heering, Cointreau, lime juice, fresh pineapple juice, grenadine and Angostura bitters—at least according to the Raffles Hotel Long Bar. How often does anyone have fresh pineapple juice anyway? It's not impossible, but juicing the big fruit is not something most people want to do. It's also not a step most bartenders would take which accounts for some of the variations. Normally, we'd be excited about the opportunity to use some homemade real pomegranate grenadine, but there is a real risk of ruining this drink with too much syrupy sweetness. Imagine our surprise when we found a version that not only leaves out the grenadine, but drops the pineapple as well!
This version of the Singapore Sling is found in the pages of Jeff "Beachbum" Berry's excellent Beachbum Berry Remixed, a revised compilation of tiki drinks from his two successful books in one volume. Some of you might argue that the pineapple juice is what gives this drink the foamy head and that it's an essential flavor element. Well, we're not here to argue, but just about all of us are a lot more likely to make this drink in its less complicated form than we are to carve up a fresh pineapple in order to conform with tradition. Besides, we like the flavor of this version because it has a nice balance without being overly sweet. Do what you like, especially if you have a pineapple and some pomegranate grenadine, but we are saving ours for another time and making this version from now on:
Singapore Sling
from Beachbum Berry Remixed
2 oz gin
.5 oz brandy
1 oz Cherry Heering
.5 oz Benedictine
1 oz fresh lime juice
1.5 oz club soda to top

Add all ingredients except the soda to a shaker. Fill with ice and shake until thoroughly chilled. Strain into a tall glass of ice. Add soda to top and garnish with an orange wedge and a sprig of mint.