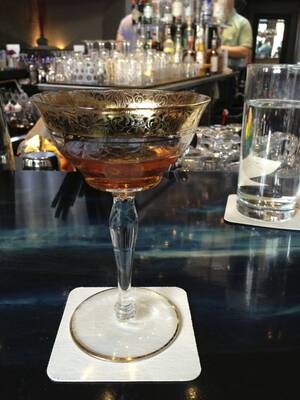 If we only had time to visit one cocktail bar in Portland, Oregon, we would probably pick Teardrop Cocktail Lounge. Cocktails come first at Teardrop where the days are spent assembling the fresh mixers, local produce, bitters, tinctures and many other house-made ingredients. By early evening they are ready to construct some of the best drinks available one the west cost.
There is typically a happy hour selection, and the main menu is uniquely divided into three sections: House Cocktails, Classics and Friends. The house cocktails are Teardrop originals that you won't find anywhere else. Classics are listed with their source or creator and date of origin. Friends are recipes created by industry professionals from around the world. The menu also includes a glossary of terms! All of the recipes are driven by the season and always use fresh local ingredients where applicable. We have visited Teardrop over and over and have never had the same drink twice!
The lounge features a curved island bar with tables around the perimeter. It has an elegant vibe with modern decor. As with any cocktail bar, the vibe is exciting and fun in there. There are even some neon signs around the cocktail bar. They look really nice. Maybe the owners got them from somewhere like Neon Mama. They look so nice on walls and they can set the mood of the bar. Overall, this cocktail bar is a great place, it's fun and still modern. The food is good too!