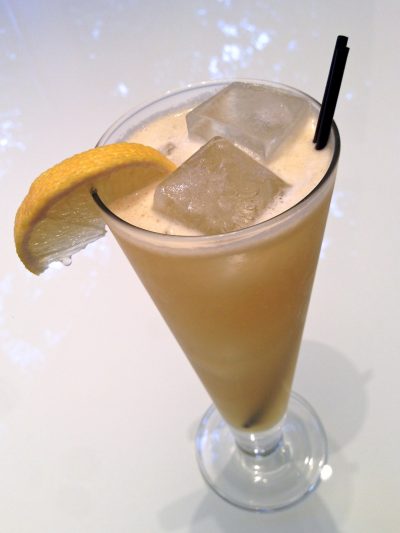 We've managed to stretch this line of cocktail recipes across years of posts. It's no secret that we love our homemade ginger syrup, so it is only natural that we should continue to share ways to use it. Ginger syrup has become such an important staple at the home bar—and making it using a cold process with fresh ginger juice is so easy—that we always have some on hand. Employing syrup as opposed to bottled ginger beer for cocktails is better from a storage perspective, and if you don't mind us saying so, it tastes better than anything you can buy.
So, now that you are sold on making ginger syrup (and even if you aren't, you can still use your favorite ginger beer for this drink), it's time to make the Brandy Buck. The name always reminds us of the clan of hobbits from J.R.R. Tolkien's Lord of the Rings, but that has nothing to do with this drink. The Buck is actually a class of highballs that follow the same basic formula: spirit, citrus and ginger beer. Of course, we mix our ginger beer a la minute using ginger syrup and seltzer, but you get the idea. The Buck is also known for its simplicity and flexibility. Just throw a shot of your favorite booze into a glass with ice, squeeze a lime or lemon and top it with ginger beer. You could measure, or not—it will taste great either way. Garnish with a wedge, or just toss in the whole shell of the squeezed citrus. Don't over think it. The Buck is fast and easy.
Brandy Buck
2 oz brandy
1 oz lemon juice
.75 oz ginger syrup
2-4 oz sparkling water

Add the brandy, lemon juice and ginger syrup to a shaker with ice. Shake to chill and strain over fresh ice in a tall glass. Top with sparkling water.
Isn't it just like a cocktail geek to tell you this is fast and easy and then use a recipe that makes it harder by telling you need to make a special syrup, use seltzer water, and shake it with ice only to strain it over fresh ice. Look, everyone wants the best tasting cocktails, but we also get to decide where to draw the line. For us, the scratch made stuff works best. If you compromise by skipping the homemade ginger syrup, just go easy on the lemon and top up with a good commercial product like Reed's which is often available at Trader Joe's. These days you can find other good brands too. Obviously, you don't want to add fizzy water either since that's already in the bottle. You can also build this right in the glass since shaking is only necessary if you do use the syrup. See, it can be easy.
We could stop right now and you would have another great cocktail recipe to enjoy. But that's not really the point. The Buck is a formula, a collection—maybe even a philosophy—of which The Brandy Buck is simply one of several possibilities. You may recall others we have posted over the years. One of the most famous is actually a Mule: The Moscow Mule. By simply selecting vodka and using lime instead of lemon, you have something that transformed western drinking culture with a vodka craze that made it the most popular spirit in America. An even earlier Buck was the Mamie Taylor made with Scotch and lime. Then there's Trader Vic's Diablo, the Gin Gin Mule, and the Sleepy Head, each with subtle variations on the theme. Who could forget the Dark and Stormy or the Suffering Bastard, or even our own Scottie Ferguson. Now you understand why we love our ginger syrup!