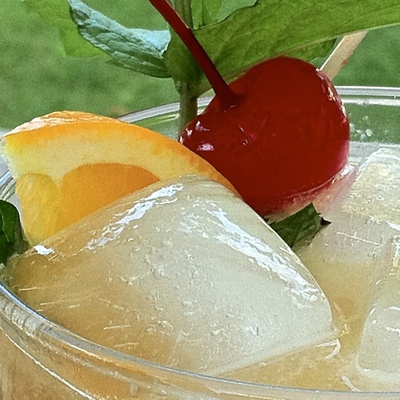 As the summer fades, here's a wonderful cocktail to help you hang on to just a little more fun in the sun. It's usually regarded as a Tiki drink which always reminds us of warm tropical places—as it should. However, instead of rum, this one has two base spirits: gin and bourbon. What could be better than that?
We love the name of this drink partly because it's actually a nickname. Most cocktail gurus agree that this drink was once referred to as "My Suffering Bar Steward" which seems to recall a time before ice machines and soda dispensers. Imagine a poor, suffering assistant scurrying to and fro to keep the ice bin full and to retrieve ingredients for the barman. Plenty of drinks are named for the men behind the stick, but it's not unreasonable to believe that in a loud, crowded bar, someone might fancy a misheard version of this drink's name. Whatever the reason, we know it today as the Suffering Bastard—although drinking one of these isn't any work at all. Thankfully, making one is pretty easy too.
Suffering Bastard
1 oz bourbon whiskey
1 oz gin
1 oz lime juice
1 oz ginger syrup
1 dash Angostura bitters
3 oz seltzer (to top)

Build in a rocks glass, add ice cubes and stir to chill. Top with seltzer, stirring and adding ice as needed. Garnish with a slice of orange, a cherry and a sprig of mint.
Jeff "Beachbum" Berry specifies ginger beer in his recipe, but if you have been following along, you know that we appreciate homemade ingredients. One of the most versatile is ginger syrup, so we adapted this recipe assuming you made a batch at one point. You will also need club soda or carbonated water from a siphon. If you don't have the syrup, get some good ginger beer and substitute the ginger syrup and the seltzer with four ounces of ginger beer.
Over the years, some great tiki mugs have been made for this drink. We don't happen to own one right now, but it's on the list! You shouldn't let glassware stop you from making this though. It works just fine in a rocks glass or a double old fashioned. If you are a fan of the Moscow Mule or the Dark and Stormy, you need to add this to your rotation. It's basically the same drink with a different base spirit. In fact, this is especially fun because it combines both whiskey and gin. That said, we don't think of it as a gin drink at all, and if you are scared of the brown spirit, you are pretty safe here too. It's refreshing with a little bite—just what we need to hang on to that last bit of summer we have left!