Every couple of years we run through a list of holiday gift ideas for the mixologist in your life. We have tried more tools and cocktail related products than anyone we know, so we think we have a good grasp of what works and what doesn't. It's safe to say that over the years we have collected some things that we really like—often "trading up" to better tools than we had before—and a we own a bunch of stuff we never touch. Here is a nice list of our favorite gift ideas. Some of them are special, some work better than anything we have tried, and others represent good values. We have also linked to these items for adding to your shopping cart.
Tools: Shaker Tins, Stirring Glasses, Spoons and Strainers
Anyone wanting to make cocktails at home will eventually need a few essential tools. Depending on their interest, they may need the basics. For example, an Old Fashioned drinker probably builds their favorite drink right in the glass. There's nothing wrong with that, but once their interest expands to other classics, they will need to shake, stir and strain. At minimum, a Boston Shaker with a Hawthorne strainer covers a lot of bases. The glass/tin combo is what most professionals use to shake cocktails and the glass can be used by itself for stirring. You should stir anything with transparent ingredients, so you'll need a bar spoon. To step it up a notch, we highly recommend the large and small Japanese shaker tins for an all-metal combination, plus a heavy Yarai stirring glass. Add a julep strainer and a high-quality spoon and you have the perfect setup that we use, and it may last forever.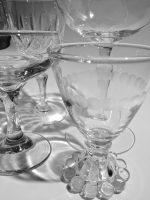 Tools: Measuring
We have been using the Oxo Angled Measuring Cup for years to measure ingredients for cocktails. Of course, we like to modify ours to keep it from tipping over after we clumsily spilled our last ounce of lime juice one evening. That's not really necessary, however. These little measuring cups are inexpensive, easy to read, and practically indestructible. We always have a few on hand to give away to friends.
Glassware
Once you are making great drinks you have to serve them, right? Check out the Summit Sips Shop for some actual antique cocktail glasses we are selling from our collection. Finding unique glassware is a hobby we enjoy, but we like to share the experience with our readers so that everyone benefits from the treasures we discover.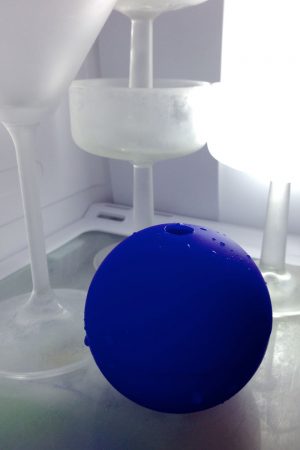 Ice Sphere Molds
The first post we ever wrote on Summit Sips was about ice. It's an important element in cocktail creation. Using a large chunk of ice to chill a mixed drink or to keep spirits cold definitely has its place. Ice spheres are a lot of fun and we have made many of them over the years. Recently, we had the chance to try an ice ball maker by Arctic Chill. They are straightforward molds made from BPA-free silicone. Using a set of these is perhaps the easiest way to make ice spheres right in your own freezer. It beats the heck out of plastic tray style molds which we always break trying to separate. The Arctic Chill just works. Fill them with water leaving a little air space for expansion, place them in your freezer, and in a few hours, you'll have the perfect sphere for your rocks glass. It doesn't get much easier than this. We typically make a bunch at a time and store them in the freezer wrapped in plastic until needed. The Arctic Chill is also a good value because you get four in an inexpensive package.
Books
A bunch of wonderful books came out this year including Jeffrey Morgenthaler's Bar Book which is an important reference for technique. Also, one of our fellow bloggers released The 12 Bottle Bar Book that captures the high-concept of keeping a limited cabinet yet still making hundreds of classic recipes. Death & Company released their much-anticipated cocktail book recently. If these aren't exciting enough, we also love PDT. It's hard to go wrong with any of these!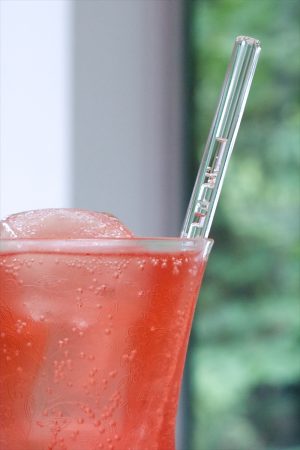 Glass Straws
Plastic straws are everywhere—like the ocean, and landfills and in the storm sewers. Of course, they are also in our bars and restaurants which is where the problem starts. We use them too, admittedly, but that doesn't mean we can't strive for alternatives. Lately, we've been enjoying glass straws. They are much stronger than you might imagine, and many come with guarantees against breakage. We own glass straws from two sources, Strawsome, and Glass Dahrma. We like both for the variety of styles from which you can choose. Strawsome's Smoothy straws are perfect for thick drinks—much better than any alternative. The tall and skinny straws are our go-to for Collins style drinks. We also find Glass Dharma's 7mm 6.25″ straws to be the perfect sipper straw replacements. They are narrow, and just right for sipping Juleps and the like. Both companies make styles that are clear, colored, straight, bent, and decorated. Having a drop of colored glass attached is a nice way to identify your drink. It also keeps the straws from rolling off the counter. You can take them with you in an optional carrying case.
Homemade Syrups
We mentioned this a couple years ago, but one of our favorite holiday gift items is homemade ingredients. House syrups is the way to go. We suggest ginger syrup for a variety of delicious cocktails, but you can make all kinds of amazing classics with grenadine, falernum and orgeat. By sharing your DIY experiments you are also sharing your enthusiasm for craft cocktails.
Special Bottles
We use eye droppers for all of our bitters. Precision makes sense, but so does saving space. Having a bunch of one-ounce dropper bottles at hand is much better than keeping all of the original bitters bottles in the cabinet. We store those elsewhere and refill as needed which isn't very often. This also allows us to keep things like salt water solution, orange blossom water, and even absinthe close at hand for drinks that need it. In addition to droppers, we keep a handful of boston rounds for shrubs and other homemade ingredients. The 325ml "woozy" bottles are perfect for the homemade syrups. If your bar area is just too crowded, or you are tired of always using mason jars to store your homemade experiments, check out Specialty Bottle and get everything you need to stay organized.
Booze
It should go without saying that bottles of alcohol are always appreciated by the cocktail enthusiast. If you aren't sure what to get, you can't go wrong with base spirits. For maximum versatility, go with a decent bottle of gin, for example, or an american rye whiskey because they are necessary in so many classic recipes. A good bottle of rum can brighten the winter mood with the promise of tiki tropical cocktails. Just stay away from flavored spirits. Nobody wants bubble gum vodka. If you want to get more creative, take a recipe you like and assemble the items needed to make it. That way, you are giving a cocktail, not just a bottle without a use in mind.
These are just a few ideas to get you started. We have other items linked from our Shop that we recommend to make it easy for you. If you have another suggestion, please post something in the comments below!