Nothing showcases a unique cocktail like a unique cocktail glass. But, sometimes practicality is more important—we are talking function over form. Not everyone wants or needs the kind of variety we like to photograph here. What everyone does need are a few different glasses to get through the vast majority of recipes worth exploring. You want to be able to construct and enjoy classic and contemporary recipes the way they were intended. We are often asked what kind of glassware to get, so we thought a simple guide might help. Once you cover the basics, you can always expand with a specialty glass here or there without going overboard. But you should at least insist on these as a starting point.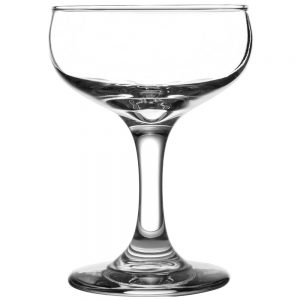 The Coupe
The most basic cocktail glass you should own is the cocktail coupe. This is the historic vessel for serving "up" cocktails (shaken or stirred, then strained into one of these). Far less slosh-prone than its V-shaped "martini style" counterpart, the coupe is stemware restored from a bygone era. Originally considered a wine goblet for sipping champagne, these are the best glasses to keep your hot hands from warming the drink. Craft bartenders everywhere serve cocktails in these, and you should too. Although any style will do (just browse through our website archives to see some examples), your stemware doesn't have to be fancy.
Our first choice is the Libbey 3773 Embassy 5.5 ouncer. These are common in bars because they are solid glass with a thick stem and a sturdy bowl that can be kept ice cold in the freezer. Once chilled, they hold their temperature, and the rolled lip protects against chips and the slightly inward curvature keeps the rim from bumping against the sink or other items in the dishwasher. Libbey makes smaller versions, but we like this volume for their versatility. The Georgian style even adds some decorative flair with a nice knob to hold onto. Anchor Hocking also makes something similar. Whether you go for a simple look that is cheap and replaceable or an original antique, coupes are the workhorses of your home bar.
Rocks
Probably the second most used style of glassware is the rocks or lowball glass. Look for thick bottoms so you can drop in a scoop of ice cubes (or a large chunk or sphere) without worrying about cracks. Many recipes will call for these glasses, and even though the volume might be similar to the highball below, the emphasis here is on low, stable, easy to hold glasses for sipping. If a recipe says to use a tumbler, you can use your rocks glass. If it calls for an Old Fashioned glass, use your rocks glass. We like to use "double" more than the "single" old fashioned style because the volume is more versatile.
Highball
Several good options exist. These are often sold as water glasses, and they can usually accommodate 8-12 ounces. That seems like a lot for a mixed drink, but most Collins-style recipes will be served or built with ice, so by the time you fill the glass with cubes, the remaining volume should be just right for tall drinks. It's easy to overdo it using big beer glasses. You want to shoot for 10 ounces not 12-16. We like straight-sided chimney-style glasses with thick bottoms for holding long ice shards and straws. They look great and the classic design works best for featuring anything with bubbles.
Diversify
After you have covered the basics above, you can make almost any cocktail and feel good about the presentation. However, some drinks benefit from special glasses. For example, you could make the Moscow Mule in either high or low glassware, as this is a bubbly drink served over ice. However, these were historically served in a copper mug, so if you like the Mule, it can be fun to feature it this way. The Mint Julep is another cocktail that has its own cup. A julep cup is typically about 3.5 inches high and is made of silver, although plated versions exist that work great at a fraction of the cost.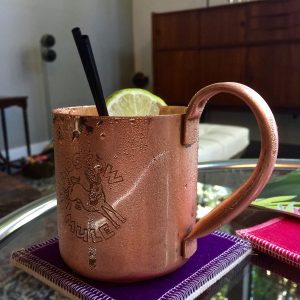 Coupes are our favorite, so we collect them, and because there are so many unique cocktails, it can be fun to offer them to guests in unique glassware. It's also convenient—in a large group it is easier to recognize which cocktail is yours. We also have a weakness for very tall Zombie glasses. It can get a little crazy keeping all of these within reach if you don't have a lot of storage. Irish coffee glasses, absinthe glasses, footed sours, tiki mugs—they all have their uses, so pick your favorites and serve your cocktails in style!
Glassware Brands and the Summit Sips Shop
We aren't getting any kickbacks from Libbey or anyone else when we mention their glasses on the site. But like certain liqueurs or brands of alcohol, glassware is unique, and there are specific styles and brands that make a difference when you use them. For many years now, we have kept an inventory of vintage glassware at Summit Sips because, in addition to more common offerings from retail sources like Target, Ikea, Crate and Barrel, etc., we like to share unique and hard to find examples with readers. Sales in the shop aren't making us rich, but they do help offset the hosting costs associated with the site. We know, shipping is a hassle and an expense, but managing over 350 items in our inventory is our pleasure, and it means a lot whenever readers—our customers—recognize our personal commitment to exploring mixology.