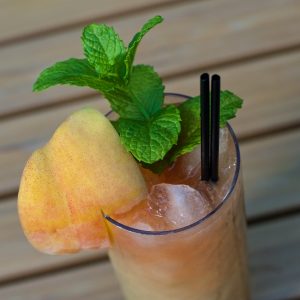 On Saturdays here in Portland, Oregon, the Farmers Market is nothing short of amazing this time of year. It's easy to get lost among the exciting sights, sounds and smells of everything nature and energetic entrepreneurs have to offer. We found an abundance of peaches almost everywhere we looked. Depending on where you live, you might have them at your market too. We thought this would be a perfect time to post a cocktail that features this flavor. The drink was created by Brad Farran of the Clover Club in New York. It is called the Peach Pit.
No, it's not a reference to the 50's diner from Beverly Hills 90210—or at least we don't think so. This is a tropical drink with peachy overtones and a cognac base. It also features orgeat—an almond syrup which you can make at home—and of course, a nice big chunk of fresh peach as a fragrant garnish that you can munch while you sip.
The Peach Pit by Brad Farran
1.5 oz cognac
.75 oz Lemon Juice
.5 oz Orgeat Syrup
.25 oz crème de pêche
5 dashes Angostura Bitters

Add all the ingredients except the Angostura Bitters to a shaker with ice. Shake to chill, then strain into a Collins glass filled with crushed ice. Top with Angostura Bitters and garnish with a mint sprig and a fresh peach slice.
Let's talk about the ingredients. It starts with a brandy base. Farran uses Louis Royer "Force 53" VSOP Cognac, and we did too. The higher proof gives the drink a nice kick of flavor that stands up to crushed ice dilution, but you could easily get away with some other brandy. Working our way down the list, we have fresh lemon juice. Fresh squeezed is a must in any cocktail that calls for citrus, so if you are still using a bottled substitute, stop punishing your palate. Lemons are always available and you have no excuse not to use them.
Next, we have orgeat syrup. There are several commercial brands available now that are delicious and convenient, but it's not hard to make it yourself. We have been making ours with marcona almonds and freezing it. This way, it takes on the consistency of sorbet and we can spoon it out as needed and never worry that it will go bad. Orgeat is great in a lot of drinks, but we are excited to add one more to that list. It's even good in coffee, so do yourself a favor and make some. In this drink, like the Peruvian Summer Smash, we love how the orgeat adds an alomst creamy effect to the drink.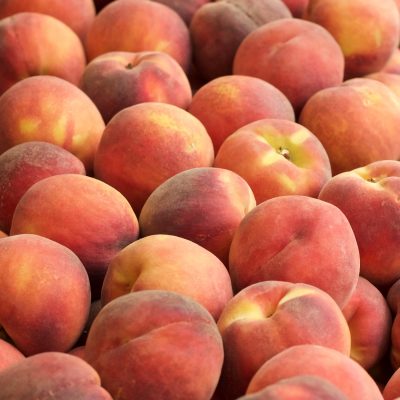 Finally, we have crème de pêche or peach-flavored liqueur. We like Briotette, but there are several quality brands available. Sometimes referred to as Peach Brandy, peach liqueur adds just a hint of flavor to mingle with the other ingredients. The peach and orgeat serve to balance the acid from the lemon while adding flavors that seem tropical and exotic.
After shaking, strain over crushed ice in a tall glass. This is a typical way to serve tiki cocktails, and you could probably get away with using your favorite tiki mug, but a collins glass allows you to see the color transition from the Anogostura bitters which you now dash over the top. The resulting red gradient releases a spicy aroma with every sip. Garnish with a slice of peach (we like to use a big juicy chunk) and a sprig of mint. Fantastic!
This combination is simply begging us to tinker. For example, why not make an Apricot Pit the same way using apricot liqueur? You could also sub an aged rum and maybe use orange curaçao and lime juice. . . oh wait, that's a Mai Tai!