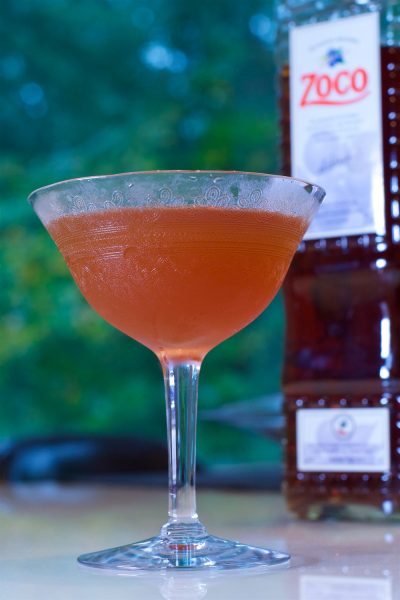 Some years ago, we received a gift from a family member living in Spain. Pacharán (or Patxaran) is a sloe berry and anise flavored liqueur from the Navarre community of northern Spain. Dating back to the middle ages, homemade pacharán recipes are still followed today similar to several Italian traditions (like nocino and limoncello). To make pacharán, sloe berries from the blackthorn tree are soaked in anisette along with a few coffee beans and cinnamon. After a time, the solids are strained and the resulting liquid is bottled. Eventually, commercial brands became available. The oldest is Zoco, dating back to the 1950s using a family recipe from the early 1800s.
Similar to Sloe Gin, Pacharán Navarro production is regulated to contain no color or flavor additives, yet it boasts a deep reddish hue and an intense berry flavor alongside the expected hint of anise. While it is gaining popularity in important cities throughout Spain, pacharán has yet to assert itself as an ingredient in most craft bars throughout the rest of the world. In Navarre it is typically consumed chilled or on the rocks which is nice, but very few recipes have been created to take advantage of it in a cocktail. When we first received ours a few years ago we were delighted to try something exotic and unknown, but a complete lack of cocktail recipes made it a challenging ingredient about which to write. Recently, we came across the Otoño created in 2010 which we are finally sharing here.
Otoño Cocktail by Fernando del Diego, Del Diego, Madrid
.75 oz Pacharán (Substitute 1/2 sloe gin + 1/4 pastis)
2 bar spoons coffee liqueur
1.5 oz Irish whiskey
1 dash Angostura bitters

Stir and strain into a chilled cocktail glass. Garnish with a cocktail cherry and shaved chocolate.
The Otoño is definitely a sprit-forward "autum" cocktail. You could put it alongside a Manhattan if you wanted to categorize it, although we are obviously taking liberties. The Irish base spirit is going to soften the flavor by comparison, and instead of vermouth we have this unusual berry-coffee-anise thing going on. It's a simple drink to execute and the flavor is actually quite lovely, with the chocolate shavings making a fanciful garnish. We used a pinch of pulverized cacao nibs for a light dusting on the surface which creates a whiff of cocoa, but a few shavings from a micro-planed chocolate bar is more authentic. The sloe berry flavor of the liqueur is just barely perceptible. It is the anise and the coffee flavors that come through the most, though neither dominates. The Irish whiskey can burn a little if it's not properly stirred and diluted, but its smooth flavor allows the other elements to shine.
So, what do you do if you can't find Pacharán? Well, as the recipe indicates, you could fake it with a little sloe gin and pastis or (or even absinthe). But the point is to get acquainted with this unusual ingredient which shouldn't be too hard to track down. We are just starting to see it listed on a few menus here and there, so perhaps it will catch your eye and you can make a request at a bar. This drink is great for after-dinner which aligns with how it pacharán is often served, but it also presents a nice opportunity to tinker. You could obviously play with brands of coffee liqueur (we like House Spirits a lot) or make your own from cold-brew concentrate. It also seems perfect for spirits-swapping, so rotate through your favorites and you may come up with a nice surprise!