It's not going to cure the global pandemic, but the Penicillin cocktail by New York's Sam Ross can make you feel better about making cocktails at home. It is a smokey, boozy, sweet and sour sipper that is just perfect for curling up in a comfy chair during the winter months. And since most of us are stuck at home this winter anyway, why not invest some effort in your cocktail repertoire? We have essentially built our inventory over the years this way—one cocktail at a time—but admittedly, this modern classic should not have taken us more than a decade to make.
It's not like the ingredients are unusual or hard to find. The best execution of this drink does involve a little DIY which is something we always appreciate, but that has not been the limiting factor. It is probably the base spirit that slowed us down. Even though Scotch-based cocktails are somewhat rare and we are always excited to try another one, we are usually unwilling to sacrifice a single malt. We also don't normally invest in blends. With the Penicillin, we need to use both.
Penicillin by Sam Ross
2 oz blended Scotch whisky
.75 oz lemon juice
.75 oz ginger-honey syrup
.25 oz smokey, peated Scotch from Islay (float)

Combine everything but the Islay Scotch in a shaker, shake with ice to chill, double-strain over an ice chunk in a rocks glass and carefuylly float the peated Islay. Garnish with crystalized (candied) ginger.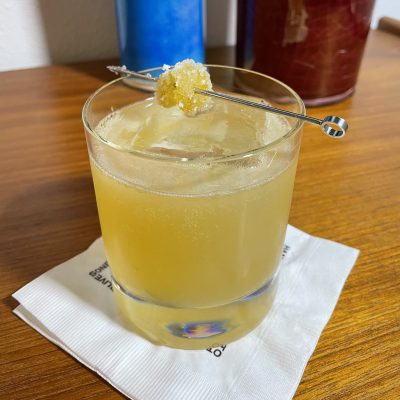 On paper it seems easy enough until you start to think about the details. First, let's address the spirits. You will want a blended Scotch for the base. Blends tend to have a well-rounded Scotch flavor that doesn't need to break the bank. You can also use your selection in virtually every other Scotch recipe out there—in addition to sipping it neat. The point is that blended Scotch is not a one-drink ingredient. We used Monkey Shoulder, but there are plenty of good brands to choose from. Of course, this is a drink that actually requires two Scotches.
The float calls for a smokey Islay. For those of you still learning about Scotch, Islay (pronounced "eye-la") is a Scottish isle known for distilleries that produce whisky with a peaty, smokey character—the result of a production process in which malted barely is dried by burning peat moss. This imparts a briny, smoke flavor to the spirit. Brands like Laphroaig or Lagavulin are good examples of this style. We often pickup a new bottle of Scotch during the holidays but intense peat is something we typically avoid, though it has grown on us over the years. This has also stopped us from making cocktails that require it, so this year, we picked up a bottle of Ardbeg Wee Beastie, known for its intensity. It will add the medicinal overtones to this and other cocktails that call for it.
With the spirits covered, we turn our attention to the sweetener in this whisky sour. According to the cocktail creator, Sam Ross, his initial concept was a riff on the Gold Rush, a bourbon sour sweetened with honey that they were serving at New York's Milk & Honey in the early 2000s. Inspired by recent Scotch expressions by Compass Box, Ross made a Scotch version splitting the sweetener between honey and ginger syrup. We have seen several solutions to the honey-ginger combo. You use a smaller amount of honey mix (it is always important to dissolve honey in water before mixing it into a drink) and make up the difference of the .75 ounce recipe measure with ginger syrup. You could also sub a ginger liqueur and mix that with honey. We offer a third approach which extends from the garnish.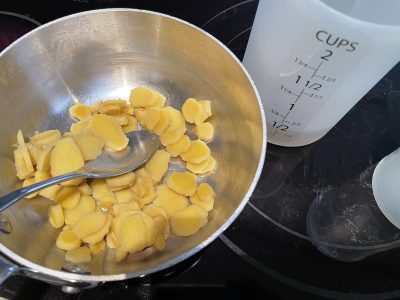 You can buy crystalized ginger, but making the candied root is easy, and the by-products can be used to make the syrup for this cocktail or others. Peel and chop fresh ginger and cover this with water in a small saucepan. Simmer for 10 minutes and pour off the infused water (reserve this) then add equal amounts of fresh water and sugar to cover the cooked ginger. Continue stirring over medium heat until the sugar dissolves and simmer another 10 minutes. At this point, your candied ginger is done and can be removed from the syrup and tossed in granulated sugar. Set aside to dry for a day or so, then gather the dried ginger into a jar, brushing off the excess sugar. Candied ginger is more than just a garnish—it makes a great treat by itself, or it can be added to hot tea and other recipes.
By saving the ginger-infused water you can mix this with an equal volume of honey for the perfect ginger-honey mix to make this drink. If you already have crystalized ginger, you can just simmer some ginger root in water for a while, then use that water to make a honey mix. The availability of ginger liqueur means there are several good options for getting ginger and honey together and we plan to try them all for comparison, but the whole point of this was to mix up the Penicillin cocktail, so how does it taste?
It is easy to imagine how a Scotch sour will taste with a little honey and ginger, but reading and imagining is a lot different than trying it yourself. Obviously, it requires fresh squeezed lemon juice, and with several options for the base spirit and the sweetener, there are going to be some slight variations of flavor, but the Penicillin is an impressive combination that we wish we had tried sooner. Regardless of how you get there, the peaty float is an inspired move that transforms the flavor as you drink it. It hits your nose initially, setting an expectation for an intense sip, but it is surprisingly good. Each consecutive sip is mellower and more delicious as the intensity slowly dissipates. Sour gives way to sweetness. The ginger is subtle, the honey and Scotch is complex but comforting.
The Penicillin is a modern classic, but one that makes you forget this is a contemporary recipe and not something pulled from a centuries-old book. It is worthy of the effort and offers several methods of execution. Pick one and try it. You will definitely enjoy the rewards.