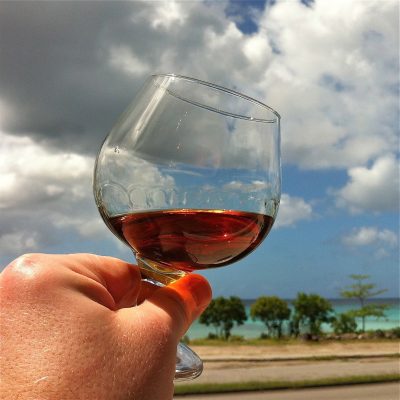 We are not rum experts, but we are learning, and although we have managed to collect a few bottles, there seems to be no end in sight. Rum (and related sugar cane spirits) are distilled all over the world. Some are made from molasses while others are distilled from fermented cane juice. Distilleries use column stills, pot stills and sometimes both. They can match the alcohol content of other spirits or create overproof varieties. There are light rums, gold rums, spiced rums and dark rums (enough to make an adult Dr. Seuss story). Some are bottled immediately and others get better with time. With qualities that used to be merely a result of storage and shipping, the finest rums in the world today are aged in oak barrels and carefully blended to produce flavors that could drive a whiskey lover to give up Scotch and bourbon and retire to the Caribbean.
One place worth considering lies east of the Windward Islands of the Lesser Antilles. Boasting a tropical climate and beautiful ocean views, it's hard to talk about rum without mentioning Barbados. Host to several distilleries, its history is richly intertwined with this spirit. In fact, the island is often claimed as the birthplace of rum. Evolving under uncontested British rule from 1625 until 1966 when Barbados was granted independence, sugar trade has dominated the economy until the 1970s when tourism became the most important foreign exchange earner. Rum shops are all over, and the locals (mostly men) frequent the sponsor-decorated buildings to socialize. Rum is usually served neat, and locals seem content sipping their rum with the laid-back attitude that the best rum is the rum you are drinking! If that happens to be a local product (and why wouldn't it be?), it's bound to be good. Barbados rums typically represent the amber or darker color spectrum with rich, complex flavors rather than light or overproof styles. Popular brands include Mount Gay and Cockspur—both of which are very good.
On a recent visit to the Mount Gay Distillery, we were guided through the production process and toured the blending and bottling facilities. We were invited to sample the current product line, and after the tour we took the opportunity to try the 1703 Old Cask Selection, a luxurious blend of aged rums from 10 to 30 years old. This was definitely a sipping rum to be savored. Actually, any of the rums we tasted would work nicely in our Drink of the Week. Although it is named for another island, this cocktail is built upon ingredients from Barbados.
Royal Bermuda Yacht Club
2 oz Barbados rum
.75 oz fresh lime juice
2 dashes Cointreau
2 teaspoons falernum

Shake with ice, then strain into a chilled cocktail glass.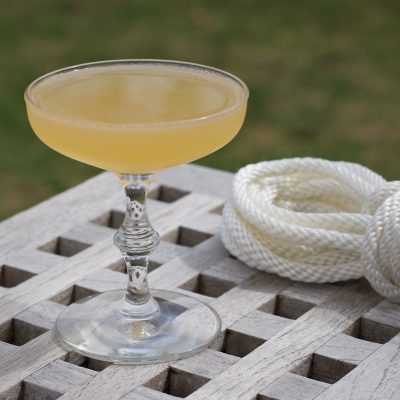 It's not uncommon for recipes to be specific when it comes to spirits used in cocktails. This is easy to accept for drinks that require a light spirit versus a dark one for example, but with rum, you will often see a country of origin in the ingredient list. This is especially true with exotic tiki drinks that sometimes build flavors by combining different rums in the same drink. Such cases are not meant to be snobby or to draw your dollar toward one brand or another. Rums vary, and depending on where they are produced or how they are aged, they vary widely. Fortunately, rums from one island or geographical location tend to have flavor similarities that are distinctive from those produced elsewhere. By this logic, it's possible to identify a rum's origin based on certain characteristics which explains why a recipe might call for a specific type of rum in order to represent certain flavors in a cocktail.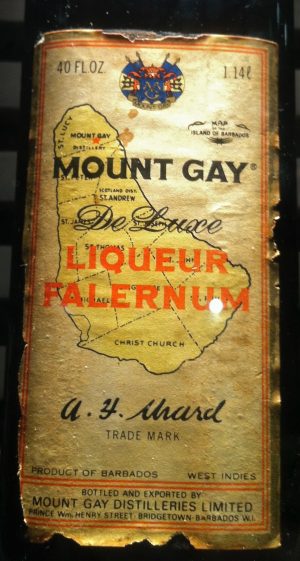 The Royal Bermuda Yacht Club cocktail was created by Trader Vic before full-blown tiki drinks caught on. Named for the club established in 1844 by the British Army stationed in Bermuda, it calls for Barbados rum. We used Mount Gay Eclipse which is easy to find and doesn't break the bank. It's a medium rum, amber in color, and it represents the Barbados style nicely. With the rum front-and-center, the rest of the ingredients build upon the rich flavors of the spirit with lime juice balanced by Cointreau and falernum. Falernum originated in Barbados, and during our tour of the distillery, we spotted an old falernum bottle in the museum. You won't find Mount Gay Falernum for sale today, but John D. Taylor's Velvet Falernum is getting easier to locate.We brought some back from the island only to see it a few weeks later at Surdyk's. Of course, falernum is also easy to make yourself, so you really don't have a good excuse for not making this drink.
Cointreau adds just a touch of orange sweetness which may be hard to detect at first. Actually, the sweet side overall is kept to a minimum here which we appreciate, although we have seen recipes with adjusted proportions. Too much falernum will obscure the flavors of the rum and you don't want that. This drink is supposed to showcase the spirit, and is probably a good platform for experimentation. Using something like the Extra Old might make this cocktail soar. As with every recipe, what you use or decide to substitute will depend on your your inventory, but consider the intentions of the drink's creator and branch out a little the next time you are at the liquor store. Buying what you know or what is priced right is one way to stock your cabinet—that's how we started—but perhaps this can serve as a reminder that there are a lot of delicious flavors out there and maybe it's time to try a few of them!