We had a little fun on Friday with our last post about the Frank Collins. We think it's important not to always take life too seriously. If you or someone you know actually made that drink, we commend you for having an open mind and for trying new things. Leave a comment and we'll try to remind you next year what day it is. Switching gears a bit, we wanted to recommend a destination if you happen to take a trip to the Caribbean.
One of the joys of traveling is the exploration of cuisine, and of course, the opportunity to try local cocktails. There are plenty of other reasons to visit unique destinations, and finding a good drink can't always be the focus. Sometimes local attractions such as clear blue water and white sandy beaches are reasons enough just to plop down in a lounge chair and take in the scenery. During a recent cruise, we spent a day on the island of St. Kitts, and after exploring downtown Basseterre, we wanted to find a place to relax. South Frigate Bay was was just what we needed.
Situated about three miles from downtown, the popular beach offers water sports, snorkeling, swimming—or the perfect spot for taking in the view while relaxing to the soothing sounds of the surf. In addition to the ocean, this location also features a string of seaside drinking and dining establishments. It was lunch time, so we made our way to the Monkey Bar & Seafood Restaurant.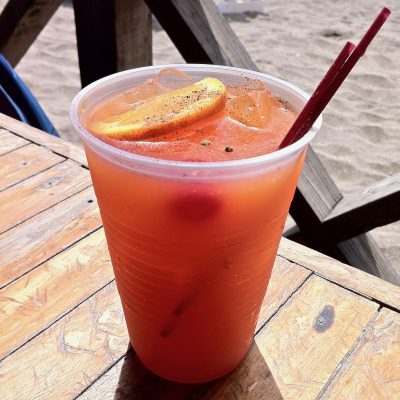 Located on the eastern end of the beach, the Monkey Bar is an open-air restaurant—its roof extending parallel to the beach with the bar itself built upon an octagonal platform that rises like a gazebo right out of the sand. Since 1986, the Monkey Bar has been the original Frigate Bay oasis featuring fresh seafood and signature cocktails. It looks and feels right at home in the hot sands and cool sea breeze. Dion was our "bartender in the round" making drinks to be enjoyed right there on a bar stool, at a table with a burger, or even just a step down onto the sandy beach where men are eager to help you with lounge chairs and umbrellas.
There are several unusual drinks on the menu, so we immediately started with rum and ordered the Painkiller and the Monkey Sex. Although the exact recipe for the popular Monkey Sex is a guarded secret, Dion was willing to share a fancy alternative with Summit Sips readers. The Magnetic Monkey is a deconstructed fruit punch with a festive layered effect that is built as follows:
Magnetic Monkey
2 oz Hpnotiq
1.5 oz mango puree, or concentrate (oasis)
1.5 oz cranberry juice, preferably one with a darker colour.

Pour mango in to highball glass (or rocks glass if you want to make it short). Next, fill the glass with ice. Gently pour Hpnotiq into the glass so that it floats among the ice on top of the mango puree. Now, carefully pour the cranberry juice making sure not too pour too heavy. Try to maintain a layered effect. You can pour over a bar spoon or gently spin the glass while pouring each step so that its evenly distributed.

Garnish with an orange wedge, cherry and a monkey cocktail stirrer if you can get one.
With mangos coming into season now, good ones should start appearing at supermarkets. We prefer the flavor of champagne mangos over the dark green ones. Hpnotiq is a pale blue vodka liqueur flavored with fruit juices and a touch of cognac. At only 34 proof, it's not going to make this as strong as a rum cocktail, but maybe that's the point. After a Painkiller and Monkey Sex, you still need to navigate home, or in our case, back to the cruise ship. Does the Magnetic Monkey help you find your bearings to ensure a safe journey, or is it designed pull you back to the Monkey Bar for a return visit? Only Dion knows the answer, but we are guessing it's probably both!