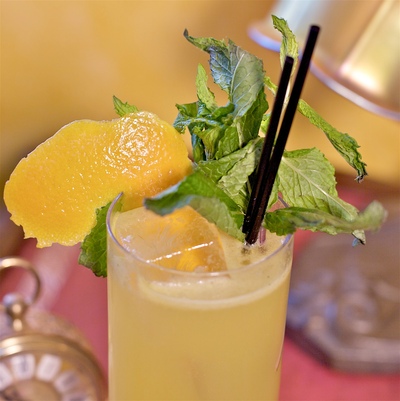 Here's another fantastic ginger cocktail, but not a new one. It's the Sleepy Head, and it dates back at least as far as 1930 when it appears in Harry Craddock's The Savoy Cocktail Book. If you are a fan of the Moscow Mule, or if you tried the Mamie Taylor, this cocktail has them both beat. However, the early version is a bit simpler than what we have here. The adjustments are subtle, but we think the cocktail is better for it.
The first change results in a stronger boost of orange flavor. The basis for this update comes from Jeff Hollinger of the Absinthe Brasserie in San Francisco. While Craddock's book calls for just an orange peel, Hollinger keeps the garnish but takes the flavor a step further by adding muddled orange slices. We like that idea because you also get more of the oil from the peel, and the resulting orange juice helps to build a more complex flavor profile.
The second change comes in the form of ginger syrup. Of course, the Savoy specifies ginger beer, and there's nothing wrong with making it that way, but we prefer our own syrup over anything you can buy. The flavor is more intense and it saves shelf space since we are not storing bottles of ginger beer. You will need sparkling water using this technique, but here is another good reason to start using a soda siphon. If you decide to use ginger beer, buy a good brand with a strong bite and leave out the syrup, topping-up with your bottled stuff.
Sleepy Head
2 orange slices
8 mint leaves
1.5 oz brandy
1 oz ginger syrup
.5 oz fresh lemon juice
club soda to top

In the bottom of a mixing glass, muddle 2 orange slices and the mint leaves. Add brandy, ginger syrup and lemon juice. Fill with ice and shake well. Strain into an ice-filled glass and top with sparkling water. Garnish with mint sprigs and a large orange peel.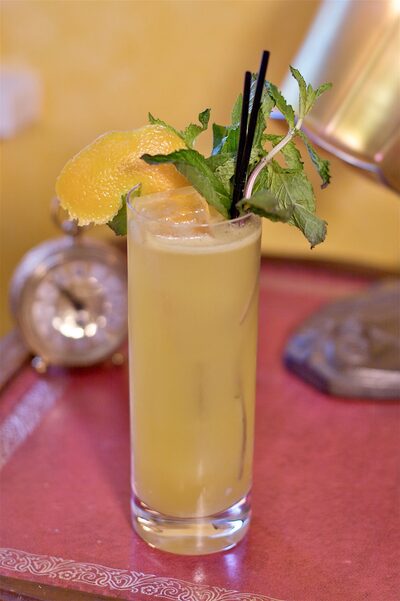 The combination of brandy, ginger and orange is so wonderful. The mint takes it one step further. We imagine the early version with just the piece of orange peel having an alluring scent of the fruit, but the muddled pieces really lets you taste the orange flavor. Used now as a garnish, we cut a wide "horse's neck" swath of orange peel using a vegetable peeler—simple, but effective. The snow may have just melted, but the mint is already starting to grow again. We are looking forward to summer with this cocktail appearing in regular rotation. Will this delicious refresher make you sleepy? That probably depends on how many you drink. Or, perhaps the name comes from the drinker and this was intended to wake you up. Try it and let us know!